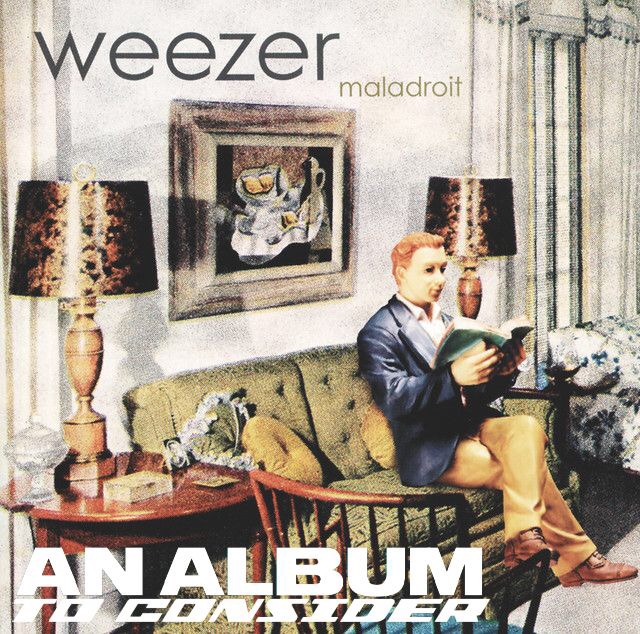 Welcome back to An Album To Consider. Round 2!
If this is your first time reading AATC, I highly suggest you read the first article in this series. But, if you don't want to, I get it. You're already here — why leave?
Basically, if you're looking for some new music to listen to, you've come to the right place. I'll give you my honest opinion about an album, and let you consider if you want to listen to it. I'm not gonna force you — forcing someone to listen to something ruins the magic of discovery. Sound good? Welcome aboard.
Last time we explored an album recorded in an abandoned rubber factory. So, this time, why not explore a band coming out of its shell? 
Coming out of its shell? What? Don't worry — I'll explain. The second album for you to consider: Maladroit by Weezer.
REAL QUICK: Who is Weezer?
You've probably heard of Weezer one way or another. My guess? You heard their cover of Africa about a year or two ago. Everybody did. Don't worry — the new fanfare for the band has been fantastic. It's rare you see a band routed in 90s grunge culture still this popular and making music nowadays; and the weez are doing exactly that.
With Weezer being one of my two favorite bands, I could probably tell you every obscure detail about their background and history … but I'll spare you (most of) the details. Formed out of Los Angeles, CA in 1992, Weezer is a band that's had a few different bassists (since 2002 has been Scott Shriner) but has kept together their core lineup of vocalist/guitarist/lyricist/memelord Rivers Cuomo, drummer Pat Wilson, and guitarist Brian Bell for almost 30 years now. With their roots in grunge, emo and pop punk, they blend all together masterfully on a multitude of albums released since 1994 to their diehard fanbase. Their most influential album might be 1996's Pinkerton, but Maladroit is a centrical album to the band's regaining of confidence and fanbase in an early-2000s pop-punk comeback. Let's dive into it.
NOW, THE ALBUM: Maladroit
First, a little context — why is it a comeback album? Why are they coming out of their shell if they had been an established, popular band since 1992?
Well, remember how I said their most influential album is 1996's Pinkerton? Well, that album aged tremendously (now universally has a perfect score across multiple major review sites), but when it was released it was badly panned by critics. This heavily affected frontman Rivers Cuomo, pushing him into a depressive episode for almost 4 years and unofficially breaking up the band until their comeback with a rather played-safe Green Album in 2001. Green was a very polarizing record, with many critics citing its' refusal to take risks and branch out like many other bands in the same genre at the time. Their answer a year later? Maladroit.
A true comeback album loaded with infectious riffs, soaring guitars and plenty of sugary-sweet sounding songs with contrasting, darker undertones, Weezer puts together a 13-track album that is risk-taking and anything but boring like its' prior-year predecessor.
Released in 2002, Weezer's 4th studio album was loaded with fan favorites … literally. They let the fans listen to the songs before the album's release on their website and choose which songs they wanted on the album. Crazy, right? Maladroit takes you on a crunchy, soaring journey of contrasted pop-punk joy and pain and makes you feel like you're in some early 2000's skateboarding highlight video.
The tracklist ranges from saccharine pop-punk anthems like "Keep Fishin," "Dope Nose" and "Love Explosion" towards darker, hard-rockier pop-punk tunes like "Take Control," "Slob," "Fall Together," "American Gigolo" and "Space Rock." If you really hate your parents, you'll especially like "Slob" and "Take Control." I love my parents and like these songs too, so, uhh … don't worry. They're for everyone.
Maybe all this pop-punkiness isn't for you? Positivity is devoid and replaced with a strange, enjoyably numbing sorrow on tracks like the aptly named "Death and Destruction" and the album's closer, "December." Both are catchy, somber-filled songs that I beg of you not to skip because of their names — give em a chance. You won't regret it.
THE TRACK THAT HIT THE SPOT: "Burndt Jamb"
The one song I purposely didn't mention was "Burndt Jamb". Why? Because it's the most intriguing song here. 
It stands out from its' accompanying tracks by sounding sonically different than anything else on the album. It's an experimental mix of guitarwork, has an odd song structure, and sounds almost nothing like Weezer. And, unsurprisingly, Rivers and the gang make it work perfectly.
It's… like eating mint ice cream with chocolate chips. (Yes, that's my analogy.) You're eating the mint and it tastes all fresh and sugary until you bite into the chocolate chip and everything just explodes. You have that mixed minty and chocolate bliss for a few seconds until it's gone again — until you find another chocolate chip. That's the song. Sweet, soft and minty until those guitars hit for a short bit — then back to the minty sweet and back again to the guitars before a blissful, melty ending. Mmm. 
THE CLOSER: Final Thoughts n' Whatnot
There are a lot of Weezer albums. But, trust me, when you got the time, consider making this one a priority if you want to explore a band that's a lot deeper than a solid cover of Toto's "Africa." If you like comeback albums that take you on an early-2000s pop-punk rollercoaster ride, than consider giving Maladroit a spin. It might be for you.