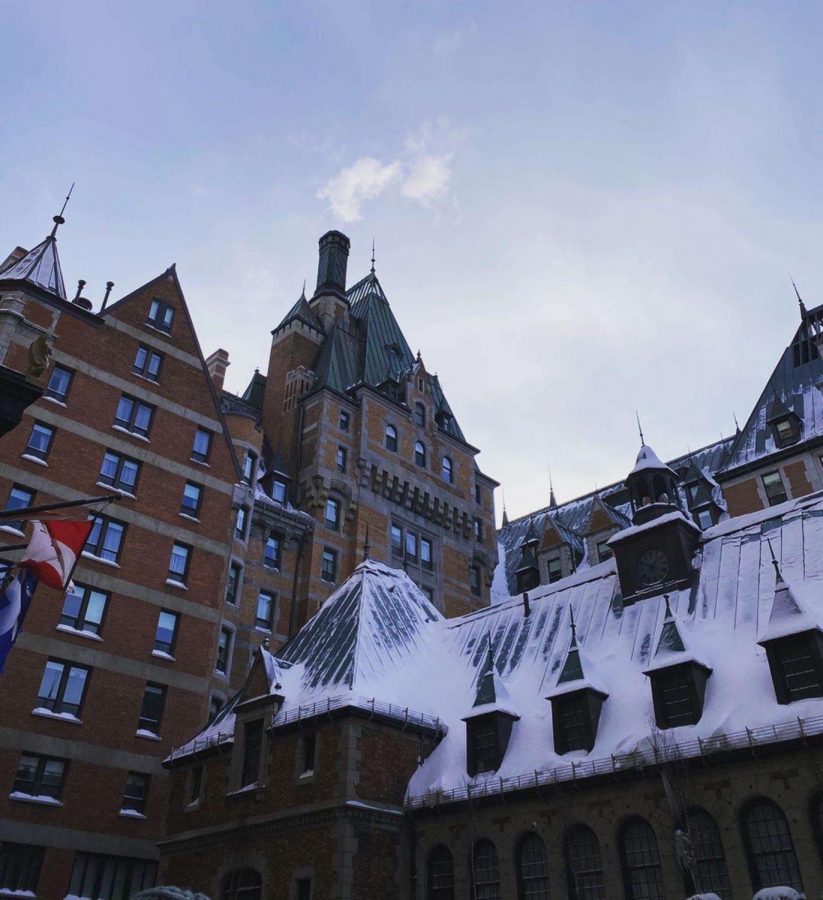 Over this past weekend, Ski Travels sponsored a county-wide trip to Québec, Canada. A mere 15 hour bus ride led the students right up to Mont-Sainte-Anne ski resort in Beaupré, Québec. 
As all 12 busses filled with Loudoun County students arrived at the resort around 9AM, there was a full day of skiing/snowboarding ahead. Because some students had never participated in any winter sport before but wanted to try, the Ski Travel company had organized rentals for anyone willing to bear the conditions. 
On Saturday (the first day), it was 30 below and very windy on the top of the mountain. This made for some exceptionally chilly runs as the long gondola and ski lift rides didn't help. The slopes were quite icy but here and there you would find patches of pure, untouched powder that were absolutely magical to ride through. If you needed a break from the cold, there were two different cafeterias and a few ski shops you could hop into for warmth. 
No meals were provided the first day, but the cafeteria had a wide variety of food for students to purchase themselves. My personal favorite was the hot chocolate. There was something about spending a day in the snow with all of your closest friends and then jumping inside the lodge for a quick drink of hot chocolate that I swear has never tasted so good. As the meals were pretty expensive ($30 for chicken tenders and a powerade) even considering the difference in currency value, it really made you question if you were that hungry. While that was quite a bummer, the breathtaking scenery definitely made up for it (maybe not to your bank account). 
All students had to board the bus at 4PM to leave the resort to arrive at the hotel. The hotel that most of the students had the opportunity to stay at the Fairmont Le Château Frontenac. The most incredible, historical castle I have ever witnessed. Inside there was gold-plated everything. There was a museum inside the hotel right by the lobby. A MUSEUM. I didn't see a single student who wasn't mesmerized by every aspect of this hotel. 
After returning from the hotel, everyone went up to their rooms and proceeded to defrost. Finally dressed appropriately for the weather, most students ate dinner at local restaurants and pubs and then walked around Old Town Québec. As this repeated for the next night, the students got a better grasp on the city. 
On Monday, the final day of the trip, students were bussed to Stoneham Mountain Resort located north of Québec City. Several students chose not to participate in the outdoor activities due to the 15 hour bus ride approaching shortly. Instead, most Loudoun County students proceeded to hang out in the lodge and appreciate their last few hours in Canada. 
Overall I would definitely recommend this trip to all high schoolers because it was such a great experience with all of your friends. The ski conditions are not wonderful but getting to walk through the snowy city and go into all of the shops made the whole trip worth it. 
If I were to do the trip over, I think I would spend a lot less time in ubers and a significantly less amount of money on low quality food. I do think it was a little too expensive and lots of spending money is needed to get by on this trip. Getting to know the chaperones and other students in the county that I otherwise wouldn't have the opportunity to meet was a great experience on its own. After going on this trip, I truly regret not going every year I could.