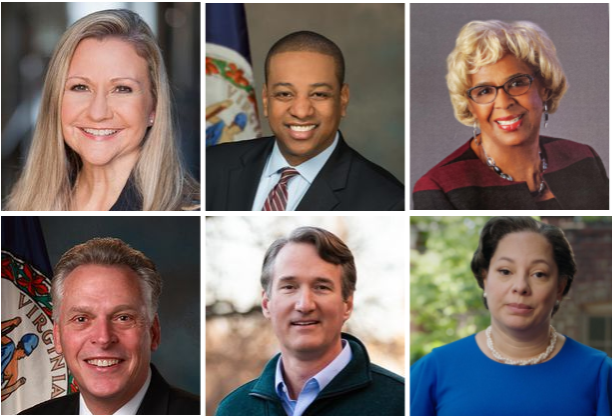 Patrick Stevenson
With the Virginia gubernatorial election still seven months away, voters have ample time to examine each candidate and make their decisions. 
But as we move closer to the summer months, the race is starting to heat up. Both Democrats and Republicans have crowded fields, each having more than five candidates vying for their parties' candidacy. Here is a quick guide to each candidate currently running for Governor of Virginia. 
Republicans 
Amanda Chase – Chase, 51, is currently a member of the Virginia Senate for the 11th District in Southern Virginia. From the beginning, Chase's campaign has been riddled with controversy. On her radio show last year, she expressed support for coversion therapy and reffered to homsexuality as "gender disphoria." Chase is running to "fight against the growing anti-American philosophy in our state."
Kirk Cox – Cox, 63, is a former high school teacher who currently represents the 55th District in the Virginia House of Delegates. With his 30-year tenure in Virginia's House of Delagates, Cox is a familiar name in Virginia politics. Unlike fellow Republican Amanda Chase, Cox hasn't fully embraced the Trump-era Republicanism. Cox aims to find support among Republicans who, like himself, are more moderate and support the establishment. Cox is running to "fight back against liberal overreach, and lead Virginia forward to the future."
Sergio De La Pena – De La Pena is a former Army colonel and most recently a part of the Trump presidential transition team. De La Pena has supported former President Trump since 2016, and such loyalty found him a job in the Pentagon once Trump was elected. De La Pena is running because "he believes socialists and Northern Virginia liberals are ruining the Commonwealth"
Peter Doran – Doran is a former CEO and author who worked in the field of international affairs and considers himself a conservative outsider. Doran is running for governor because he believes Virginia should be the "the best in schools, safety and jobs." 
Octavia Johnson – Johnson is a former Sheriff of Roanoke City, where she served as a Deputy Sheriff for 26 years and Sheriff for eight. Johnson is another moderate Republican who is running to "put the best interest of the citizens of Virginia ahead of politics, political parties or self-interest."
Pete Snyder – Snyder is a small-business owner who is somewhat of a political outsider. He's heavily criticized the past two Democratic governors and says "Virginia needs a change." He's running on cutting taxes, defending Second Amendment rights and protecting and preserving religious liberty in Virginia. 
Glenn Youngkin – Youngkin is a business owner who markets himself as anything but a politician. He believes that Virginia politics has become stagnant and needs an outsider to produce real change. He says "Government bureaucracy won't lead the rebound; the heart and resilience of Virginians will." 
Democrats
Jennifer Caroll Foy – Foy is a former 2nd District Virginia Representative and VMI graduate. She believes that Virginia needs strong leadership to bounce back from this pandemic. Foy is running because "too many Virginians are working too hard for too little. Working families need support now more than ever."
Lee Carter – Carter is currently a Virginia Representative for the 50th District and also a former member of the Marine Corps. Carter believes that his experience in the Marine Corps and in political office has led him to the fact that "people come first." Carter is running on overhauling Virginia's health care system, increasing wages and lowering housing costs. 
Justin Fairfax – Fairfax was elected in 2018 to be the 41st Lieutenant Governor of Virginia and only the second Afrian-American to be elected to that post. Fairfax faced major controversy in 2018 when two women accused him of sexual assault in the early 2000s. While Fairfax faced many calls to step down, even in his own party, he declined and remained as Lieutenant Governor. Fairfax is now running for Governor to provide, "justice, fairness and opportunity" to all Virginians.    
Terry McAuliffe – McAuliffe was Governor of Virginia from 2014 to 2018, giving him the edge in both political experience and familiarity with voters. McAuliffe also gained another advantage when current Governor Ralph Northam endorsed his bid for Governor. McAuliffe is hoping to continue the work he started in 2014, " bringing 200,000 good paying jobs to the Commonwealth, driving unemployment down, and raising personal income over 13%."
Jennifer McClellan – McClellan is currently a Virginia Senator for the 9th District and has served 14 years in the Virginia General Assembly. She promotes herself as a champion of progressive change who advocates for equity and justice in Virginia. McClellan is running on "investing in education, growing small businesses, expanding access to health care."