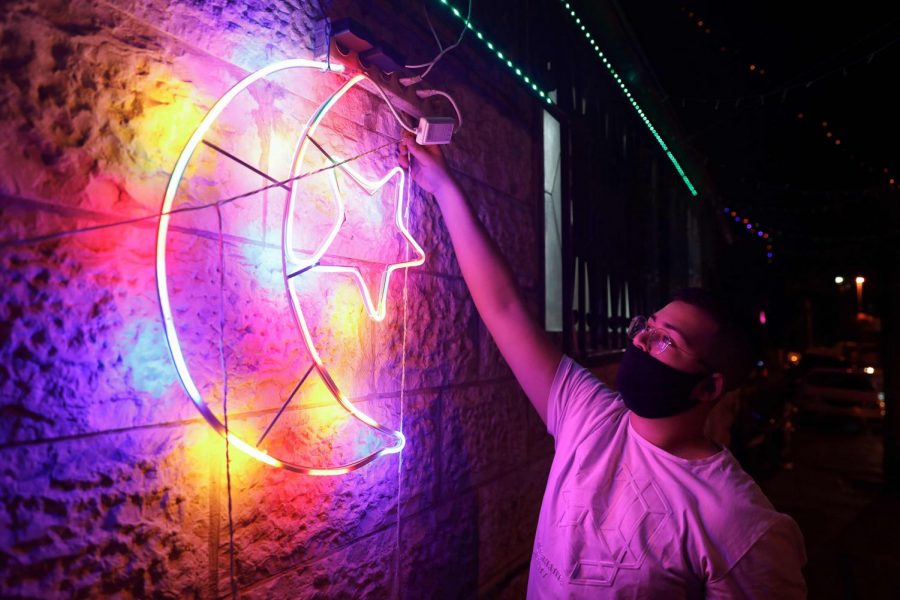 Ahmad Gharabli / AFP - Getty Images
Ramadan is here, and I've spent the last few weeks mentally preparing myself for a possible repeat of last year's Ramadan in a pandemic. In order to do that, I feel the need to address how underwhelming the previous one was.
2020 was a year like no other. Isolation and exhaustion took on a new meaning during the COVID-19 pandemic. This hit the Muslim community especially hard since it began mid-March — only four weeks before the holy month of Ramadan.
Every year Muslims celebrate Ramadan, during which we abstain from eating and drinking from sunrise to sunset to empathize with the poor and become closer to God. This month is considered to be a spiritual journey through which we try becoming our best selves. Some even avoid listening to explicit music, smoking, lying and cursing in the hopes that those habits follow them throughout the remainder of the year. 
Community is also a big part of daily Ramadan life, whether it's inviting relatives over for Iftar (evening meal) or going to the mosque every night for Taraweeh (night prayer). But with mosques shutting their doors and social distancing becoming mandatory last year, I couldn't enjoy the traditions I always took for granted.  
The pandemic made it impossible for me to have a normal Ramadan. The days I'd usually spend at school dreaming about Iftar were now spent at home sulking around.
I assumed lockdown would be a good excuse for me to read the Quran (holy book) everyday and pray 5 times a day. However, the seclusion took a toll on my mental health and productivity levels causing me not to meet any of those goals last year. 
Normally on Eid-ul-Fitr (post-Ramadan celebration), my family would go to huge parties hosted by our relatives. Gathering around the dinner table and getting gifts from my elders was like a reward for getting through such a challenging month — last year though, that did not exist. Instead, I spent it sitting on my couch in my pajamas reading Eid Mubarak texts from everyone, who seemed to be feeling the same way I was. 
I assumed that last year would be a once-in-a-lifetime situation, yet I still find myself in the same pandemic, dreading the next four weeks again for the second year in a row.  
Although COVID restrictions have lifted and more people have gotten vaccinated, it doesn't automatically make Ramadan normal again for the Muslim community. To stay safe, we still need to socially distance, keep our masks on, and stay away from big crowds. While we will go through a similar version of last year, it's important to remember that we still have a moral obligation to keep everyone safe. 
Here are some ways we can all make the most of Ramadan this year, even if you're not Muslim:
Try out fasting for a day! You don't have to be Muslim to do it — it can be purely spiritual for you. Since we have Suhoor (morning meal) right before dawn, it can be boring (and quite unusual) to eat a hearty meal at four a.m for us. If you have a Muslim friend, offer to fast with them to make it feel less lonely! FaceTime each other and keep yourselves updated on how you're feeling, offering each other words of encouragement throughout the day.
Stock up on your usual Suhoor & Iftar food, especially if it's frozen (I personally love traditional Pakistani food — it makes me feel like I'm back home). Food is an important part of Ramadan, so it's only fair we begin and end our days with food that reminds us of normalcy.
Research a fundraiser you love and donate! Charity is a big part of Ramadan, so take your time this month to think about the difference you can make for someone. The International Rescue Committee is a personal favorite of mine.
We might not be able to physically come together to celebrate Ramadan this year, but we can use this time apart to focus on the spiritual strength this month gives us. It's the intention that counts, so let's try our best to make the most of it.