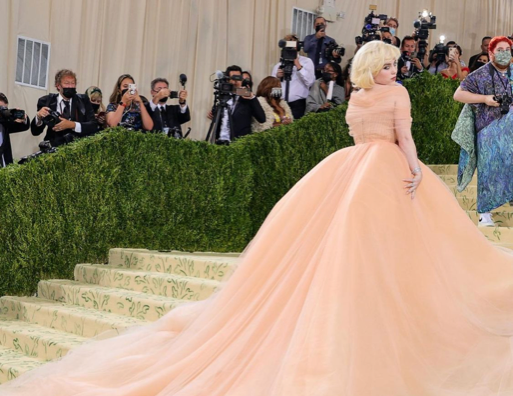 Celebrities are picked to flaunt their themed outfits at the Metropolitan Museum of art  for the annual Met Gala event. Attendees are custom made lavish outfits from a range of high fashion designers, like Thom Browne and Michael Kors. Each celebrity's outfit is tied to the event's theme, this year being American Independence.
With the Met Gala delayed for two years, many were anxious and excited for its return. This Met Gala was definitely a night  to remember from Kim Kardashian dressed, head to toe, in black, to Lil Nas X going through three very distinctive outfits. Many were shocked to find some attendees using this public chance to spread a message and some were more focused on the change in style and the not ordinary style of others. This event has never let the viewers down and many were excited to see the different outfits that matched to the theme of American Independence.
Billie Eilish's ball gown, designed by Oscar De La Renta, was a light pink tulle dress with a 15-foot train. This dress was inspired by the classic Barbie doll, Billie's favorite. She has apparently always wanted to do this look and the fans loved it for her first Met Gala. Ellish was also using this chance to promote vegan fashion trends. She is an animal rights activist and a vegan. She told the New York Times it is "shocking that wearing fur isn't completely outlawed at this point in 2021."
Representative Alexandria Ocasio-cortez, wore a controversial white mermaid dress designed by Aurora James saying, ¨Tax the rich¨ on the back. Many were angry with the irony behind the dress as she walked the red carpet of an event that is worth $35,000 per ticket. Ocasio-cortex wasn't the only one who was sending a message at the 2021 Met Gala, Cara Delevingne walked the red carpet and displayed Dior designed white trousers and a white bulletproof breastplate that said peg the patriarchy. Cara Delevingne said to Page Six Style that this outfit is "about women empowerment, gender equality — it's a bit like, 'Stick it to the man." 
Frank Ocean shocked the crowd when he showed up in a black jogging outfit with a white undershirt.  What accompanied him was most intriguing, a small green robotic baby that was perched on his hip the whole night. When asked about the baby and its ties to the theme, even Frank Ocean himself didn't seem to know the reason behind this bold fashion choice. 
For the past couple of years, the Met Gala has become popular with Valley students.
"Billie Eilish was definitely one of my favorite outfits of the Met Gala," freshman Ashley Smith said. "It really looked like a ball gown, and I love that look on her."
To follow the theme of American independence, Lili Reinhart showcased a beautiful dress that displayed each state's national flower. 
"I think Lili Reinhart definitely coincides with the Met Gala theme the most," sophomore Yuridia Gallegos said.