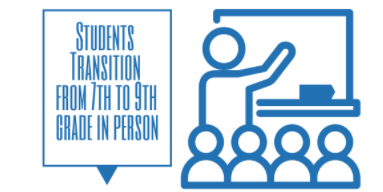 March 12, 2020 was the day life as we knew it fell apart. It was then that Loudoun County Public Schools announced a week-long shut down out of an "abundance of caution" in reaction to rising numbers of Covid-19 cases. Without a doubt this decision affected everyone, but it left 7th graders throughout the county in a unique position. Little did they know, most of their middle school years would be swept away in the pandemic, and they would return to in-person school as freshmen. 
"When everything first shut down, I remember, I really didn't think it was that big of a deal," freshman Evelynn McCann said. " I thought it was like, I didn't think it was going to be as big of a problem." 
To Kenzie Farrey, the school closure took a backseat to the more important and very special event happening on March 12,  her birthday. 
"I didn't really understand why school was shut down at first because it wasn't really like a conversation," Farrey said. "I turned 13 the day school shut down."
Fellow freshman Cameron Barr said that at the time, school closures didn't worry him in the slightest. 
"I was actually kind of happy because school wasn't going on," Barr said. "I wasn't super mad about it."
Reagan Etesse had a completely different covid experience than most of her classmates. She attended Loudoun Country Day School for her entire elementary and middle school education before starting her freshman year at Valley. 
"I went to a small private school before this. So we shut down a couple of days after. And it was really difficult because we immediately went to online school. No one knew how to do it." Etesse said. 
McCann also found school difficult during the pandemic, yet the  struggle wasn't with her grades, but with the content she absorbed.
 "I think a lot of other people definitely struggled with grades, maybe. But that wasn't my primary struggling point," McCann said. "It was mostly just what I learned, and I really don't think I learned much at all last year."
Farrey faced challenges adjusting to different methods of learning through online school.
 "I definitely think it (online school) was different because I definitely can't compare high school or middle school because of everything that was different," Farrey said. "I was online completely in eighth grade."
All those differences between online and in person learning made the transition from middle school to the beginning of high school rocky for many freshmen. McCann has had to overcome difficulty throughout the beginning of the school year, but her few months of in-person learning last year helped her in a big way. 
"Going into high school, I think it made it (not being in school) a lot scarier. Definitely a bit more of a hurdle, I guess," McCann said. "I was kind of  more nervous … I came back for the end of eighth grade, which I definitely think helped. People who didn't do that, I guess it would be a lot scarier. So I'm grateful I did that."
For Etesse, this year has brought a new environment, and compared to Loudoun Country Day School, Loudoun Valley is large and hard to navigate. Etesse has primarily struggled with the size of her new school, and not the course load.
"Probably not so much the classes, just how many people there are here. And it's really easy to get lost," Etesse said. 
As a member of the JV cheer team for Loudoun Valley, Etesse also felt that her athletics were affected by the pandemic. 
"I was doing a lot of cheer before COVID but once COVID hit I lost all my skills. But now I'm back at it. It's a lot better," Etesse said.
Looking back on the past year and a half, Evelyn McCann recognizes that the pandemic altered the course of her personal life. 
"I grew a lot as a person during COVID," McCann said. "I changed a lot and I grew. And I had time with myself to do it because I wasn't always with people… If COVID didn't happen, I guess I would be a different person."