NFL Round 1 Playoff Predictions
Who Will Come Out on Top?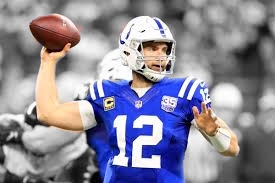 Hang on for a minute...we're trying to find some more stories you might like.
Colts at Texans – This game is a toss-up. These two teams have faced off twice this year (obviously since they're both in the same division), and both games have been decided by 3 points. The first game took place in week 4 of the season, in Indianapolis. This matchup was sent to overtime with a final score of 37-34, Texans. The second game was played in Houston where the Colts took the win by a final score of 24-21. This playoff game could go either way, although I believe the Colts will take this one. The Colts are a hot team, with playmakers on both sides of the ball. These are the key components they need in order to knock out the Texans
Winner: Colts
Chargers at Ravens – The Ravens dominated the first matchup with the Chargers, coming in week 16. But I think this game will have a much different outcome. Coming into this game the Chargers get back their star tight end Hunter Henry, who's missed the entire season with an ACL injury. Star Running Back Melvin Gordon was also not 100% fighting a knee injury. I believe that this healthy Chargers team is going to come in hot vs Lamar Jackson and the Ravens, and come out with the win.
Winner: Chargers
Seahawks at Cowboys – Two quietly good teams in this league, the Cowboys look to try again at defeating this surprisingly strong Seahawks squad. The Seahawks walked away with the win the first time these teams met back in week three by a final score of 24-13. The Seahawks will be walking away with the win for the second time versus the Cowboys this year because of 3 names. Russell Wilson, Chris Carson, and Doug Baldwin. All year Russell Wilson has consistently kept this offense going regardless of injuries. Chris Carson emerged as a top running back in the league, tallying over 1,000 yards and 9 touchdowns. Doug Baldwin started off the year slow but turned things around in the last 6 games. In those 6 games, Baldwin tallied 343 yards and 5 touchdowns. These 3 players are going to help lead the Seahawks into the second round of the playoffs.
Winner: Seahawks
Eagles at Bears – Here comes Nick Foles! It's extremely weird how the same exact scenario that happened last year is happening again. It's almost as if the Eagles want to bench Wentz without making fans mad so they choose to say he's "injured". All jokes aside the Eagles look good. But they're also going up against the reincarnation of the 1985 Bears. Potential Coach of the Year Matt Nagy has used all the weapons he could think of, having lineman, linebackers, and defensive tackles scoring this year. I think that Nagy can get his offense going versus this injury packed Eagles defense. I also think Nick Foles will struggle versus this dominant Bears defense, especially with star safety Eddie Jackson most likely being back.
Winner: Bears