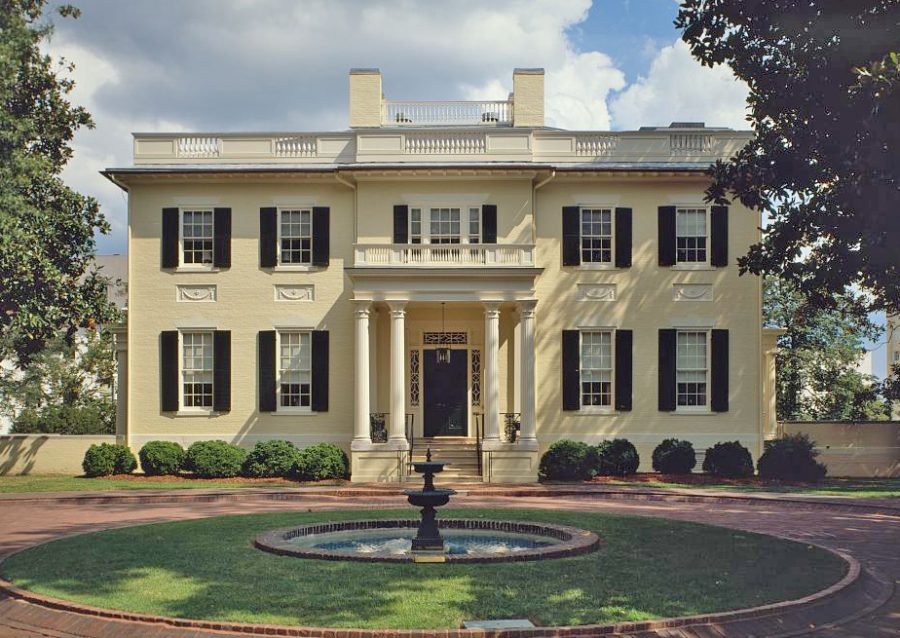 Photo | Virginia Department of Historic Resources
The 2021 Virginia Governor's Race: What to Expect
May 13, 2021
This November, voters will head to the polls to elect the next Governor of Virginia. Incumbent Governor Ralph Northam (D), despite only having served for a single term, will not be eligible to run for reelection under Virginia's constitution. Instead, the next person to assume the job will come from a historically large primary field hailing from all sides of the political spectrum. 
The candidates who are running in the Democratic and Republican Nominations will compete with each other from now until summer. Republicans will choose their nominee on May 8, while Democrats will make their decision exactly one month later. Several down-ballot races, including primaries for Lieutenant Governor and Attorney General nominees, will take place on the same dates.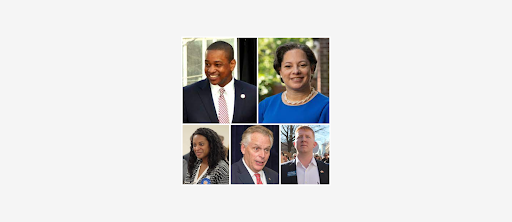 Justin Fairfax (top left) | "People's Choice 0394" by Edward Kimmel is licensed under CC BY-SA 2.0 ; Jennifer McClellan (top right) | "Jennifer McClellan Gubernatorial Campaign Headshot (cropped).jpg" by Delaneyvirginia is licensed under CC BY-SA 4.0 ; Jennifer Carroll Foy (bottom left) | "Jennifer Carroll Foy at volunteer appreciation event.jpg" by Mark Hanzel is licensed under CC BY-SA 4.0 ; Terry McAuliffe (bottom middle) | Wikimedia Commons ; Lee Carter (bottom right) | "Lee Carter VA.jpg" by Elvert Barnes is licensed under CC BY-SA 2.0
The Democratic Primary
After the 2019 House of Delegates and State Senate elections, Democrats gained control of both chambers in the State Legislature, with Ralph Northam having won the governorship two years prior. This newly established trifecta has passed several liberal policy initiatives, such as expanding background checks for firearms, expanding renewable energy programs and banning the death penalty. 
Democrats will have to defend both their state house majority and the Governor's Mansion, which has been held by the party since 2014. Several contenders, most notably former Gov. Terry McCauliffe and current Lt. Gov. Justin Fairfax, have direct experience in Virginia's executive branch. Meanwhile, other candidates such as State Delegate Lee Carter and State Senator Jennifer McClellan have cast themselves as progressive voices for the state's future. 
As of April, Governor McAuliffe is the undisputed primary front-runner. His successful fundraising, along with several key endorsements from the Virginia Legislative Black Caucus, have led to an early lead in hypothetical polling. The actual primary, however, is still two months away. 
Because of his current status, McCauliffe was sharply criticized by his fellow Democrats at their first televised debate April 6. Former Del. Jennifer Carroll Foy accused him of making a "back-room deal with the NRA" during his tenure as governor. 
Justin Fairfax criticized McCauliffe's past demand that he resign over numerous misconduct allegations, accusing the former Governor of portraying to him the same kind of hostile treatment given to victims of racial violence. 
Del. Lee Carter attacked his entire opposition over their acceptance of corporate donations.
Despite all of the debate crossfire, the fact remains that most of the contenders agreed on the mainstream issues. The real question will be whether Democratic voters want to pave the way for newer names and ideas, or to rely on the presumed experience of a former governor.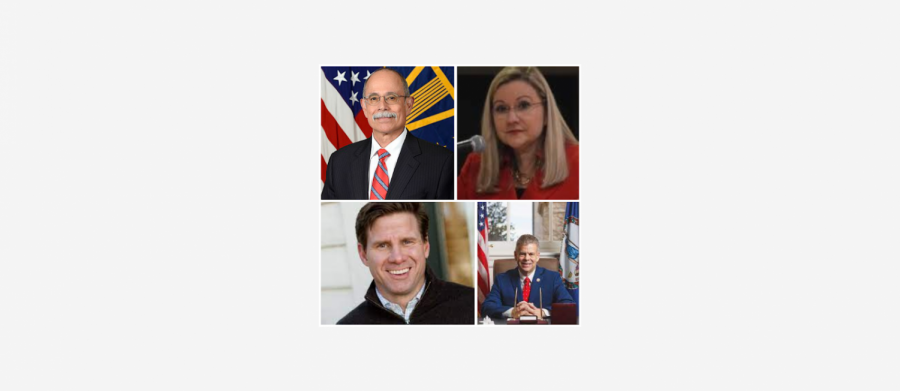 Sergio de la Peña (top left) | Wikimedia Commons ; Amanda Chase (top right) | Wikimedia Commons ; Pete Snyder (bottom left) | "File:Pete Snyder Headshot.png" by MattGagnon is licensed under CC BY-SA 3.0 ; Kirk Cox (bottom right) | "Delegate Kirk Cox" by 174de21 is licensed under CC BY-SA 4.0
The Republican Primary
The Virginia Republican Party will not hold a primary election. Instead, they will hold a party convention, where a much smaller group of voters will decide the party's nominee for governor. Since the beginning of 2020, state Republicans have remained out of power as the newly-empowered democratic majorities pass their agenda. The primary motive for the party, which has not won a single statewide contest since 2009, will be to stop the bleeding. 
Seven GOP candidates qualified to be on the May 7 ballot. Some of them include former State House Speaker Del. Kirk Cox and State Sen. Amanda Chase. The political division within this field has been evident. Del. Cox has casted himself as a Ronald Reagan-type mainstream conservative who can propel his crippled state party back into power. He is also the only candidate within the primary field to acknowledge President Biden's victory in the 2020 Election. 
Sen. Amanda Chase officially identifies as an independent because of sustained Republican backlash against her. Several Senate Republicans joined all Democrats in a vote to censure her after her comment about the Jan. 6 Capitol rioters being "patriots." She unsuccessfully sued the Republican party after their decision to hold a party convention instead of a primary. She identifies as a "Trump in Heels" candidate who called on Former President Trump to activate martial law in the wake of his electoral defeat.
State Republicans may be holding a convention with the explicit aim of blocking Chase from receiving the nomination. Her radical views on several mainstream issues largely represent those of a defeated president, so it may be wise for Republicans to take these measures. 
Even so, Trump still wields considerable power within the Republican party. His base, which still exists, may coalesce around a candidate such as Sen. Chase before Republicans can nominate someone else. By nominating her over a relative moderate such as Del. Cox, however,  Republicans risk turning away droves of already alienated suburban voters who once reliably voted for the party. This issue presents a double-edged sword for everyone involved.