5 Minutes with Pamela Lindo
March 4, 2019
Mrs. Pamela Lindo
Stress is a universal foe. When reality materializes, people yearn for activities that make the worries melt away. For Pamela Lindo, Valley's school psychologist, a childhood passion for dance blossomed into an outlet for peace and relaxation.
Growing up with three sisters in New York City, Lindo's mother decided that dance classes would help Lindo embrace her innate gracefulness.
"My mom put me in dancing from the time I was 3," Lindo said.  "So I have been dancing ever since, and in fact one of my teachers thought that I could be a professional dancer."
For Lindo, dance was more than a career aspiration. She describes it as a product of immense multitasking—listening to the music, executing moves and conveying fluidity—allowing the dancer to get lost in the art.
"I've always liked dancing," Lindo said. "There's something about dancing, where you move to a different kinda world."
Although her life took a different path, Lindo tries to incorporate a dance lesson during moments of free time. Occasionally, when she and her family visit  Massanutten, an area built around a ski resort, they enjoy a weekend dance event.
"On Friday or Saturday night, they have dancing so my husband and I did that," Lindo said. "It was 80s music, so that's us."
To nourish her performance, Lindo draws inspiration from her fellow dancers. While she says that she strives to do her best, it is ideal when there is someone from whom she can imbibe lessons.  
"I feel inspired by other dancers as well because it such a thing of beauty," Lindo said. "I like to see that beauty and I like to emulate it."
Leave a Comment
Speed Round
Favorite TV show
Right now, I would have to say it is "Ozark." It's kinda dark. It is dark. It's about fuddling drug money, but it's a really interesting story.
Favorite food 
Foie gras
College
I went to Brooklyn College in New York.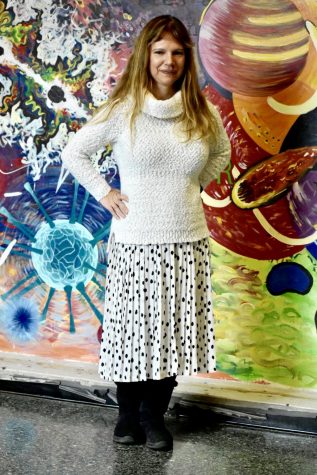 If you had a superpower, what would it be?
Oh my gosh, that's easy. To fly!
If you could experience one time in history, what would it be?
I would love to go back to the horse and buggy age. I think I was born in the wrong time. I always wished I could be Laura from "Little House on the Prairie." I would love to go back to living in a log cabin, no electricity, no cars.
Leave a Comment