Let There Be Rock
Hang on for a minute...we're trying to find some more stories you might like.
Lil Pump. Travis Scott. Drake. These artists have dominated the American music charts and there's one thing they all have in common. They're rappers. Rap has overtaken rock as the most popular genre among music fans for the first time in history, much to the dismay of many rock fanatics.
Rap has proven to be very popular among today's generation of youth. The genre's success provided a gateway for a wave of new artists to rise to fame quickly, including Juice WRLD and 21 Savage. In 2019, hip-hop is practically inescapable. It is all over music streaming services and social media, which are used by teenagers daily.
"I feel like a lot of rappers are younger and more with it and online. So it's easier to connect with those types of artists than 50 year old rock musicians," Andrew Koch, a math teacher, said. Other adolescents like rap because it gives them a lot of energy and excitement.
"I like listening to rap before games because it gets the team really hyped up and ready to go out and play," junior Libby Peterson said. Many athletes include rap in their warm up playlists to prepare them for the game ahead.
As always, there's been a strong opposition to today's questionable music choices. Some high-schoolers are rejecting their peers' tastes in music, to the surprise of a few adults. 
"It's all so autotuned and they all sound like robots. It's not fun listening to that," junior Chelsea Kubal said. "I feel like the music from the '80s and '90s is so much more authentic because it's not autotuned and edited with all the software that they can use today."
For the kids who do listen to the oldies, they find solace in the artists from the 20th century, the '80s being one of the most popular decades. Many credit this period for producing some of the most talented musicians in the world. Music videos began being broadcasted on MTV, introducing the world of New Wave to American audiences. Widespread stardom caught Michael Jackson, Madonna, and David Bowie in its wrath.
Kubal cited the 1980s as having the best music.
"I feel like they had so much variation between rock, but then they also had girly lovesong kind of bands and the cool rap was starting to come out in the late 80s." Kubal affirmed her love for Queen, Boston, and Bruce Springsteen, trendsetting figures of the decade.
Animosity towards today's rap comes in the form of many reasons. Individuals can agree that the lyrics are more crude and vulgar. Parents worry about the explicit words and recurring themes: drugs, violence, and money. Others complain about the repetitive subjects. These are just some of the many reasons why people are turning away from rap.
Teenagers appreciate the individuality that comes with the less popular genres, such as alternative and indie. They find it more relatable and genuine than the rap that is being produced today. Hearing people play real instruments is a relief from the computer-developed music that's heard on the radio.
"It helps me study, especially when listening to indie with more acoustic type stuff," junior Emma Mcelroy said. Some of the artists Mcelroy listens to include Nirvana, The Neighbourhood, and The 1975. She also values the good rock groups from the '80s, trading out rappers for more distinguished performers.
"Rap is not very relaxing to listen to. I don't like a lot of the language," Mcelroy said. "It's not something that really has any appeal to me."
Tom Geczy, a senior, prefers to listen to alternative rock and metal, especially from the 2000s.
"I prefer the creative aspects of it more than any other genre," Geczy said. "It just seems like a lot of the rock music coming out during that time was still genuine but still really fun at the same time." Geczy refers to Green Day, Boys Like Girls, and The All-American Rejects as a few of his favorites. Some people might label these musicians as emo, which creates a problem in society and schools as well.
"When students say they like rock music, you think that they're more of the goth-type of stereotype," Koch said. It's not uncommon for people to judge each other and label them based on their music choices. Avid rock and punk fans are sometimes degraded because they're not listening to what is considered "in."
"I think that by social media, they make it seem like you have to listen to rap to be cool," Kubal said. Kubal, however, doesn't let that influence what she listens to. She still prefers the older musicians as she feels they have more talent than people today.
Environments play a big role in influencing what music kids listen to. Growing up with a strong rap presence in the 2000s certainly contributes to the youth's taste in music. Others can thank their parents for introducing different genres to them.
"It's sort of a reflection of how I feel in school and how the environment sort of has its projection on me and my peers," Geczy said.
"I was exposed by my mom to classic rock," Mcelroy said. With parents playing their music in the car or at home, the kids get to familiarize themselves with genres they're not used to hearing on Top 100 radio. Mcelroy's love of grunge surfaced this way.
The '90s was another era that many alternative fans included as their favorite. It's very diverse when it comes to new genres. Grunge was popularized by Nirvana, Pearl Jam, and Alice in Chains. British bands rose again in popularity, coining the term Britpop. By the end of the decade, pop and rap stole the attention of music enthusiasts.
"It just reflects what people are interested in and how people's tastes change over time really," Geczy said. "It seems like most people typically listen to a lot of rap and hip-hop and other sort of pop music that is just more popular for the time." While Geczy isn't opposed to rap, he wouldn't go out of his way to make an effort to listen to it.
In a world where rap has taken over the minds of many teenagers, the ones that listen to rock and alternative take pride in their distinct music choices. Although, they do wish their fellow peers would give these genres a try and grant artists the recognition they deserve.
"I think it would be good to be exposed to every genre of music," Mcelroy said. Geczy believes that it would make for some interesting conversations but at the same time, he likes being different from the crowd.
"It evokes a certain kind of emotion and rock music is that outlet," Geczy said.
About the Writer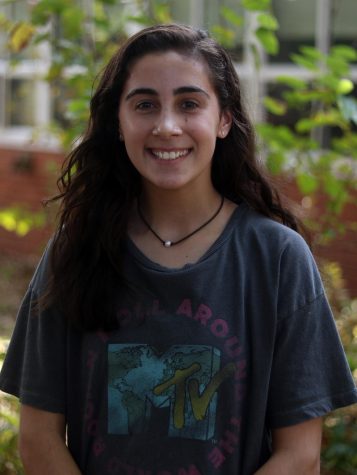 Ella Krug, Online Editor
Hey, I'm Ella and I'm an online editor for the newspaper. I'm very passionate about music, especially rock and alternative and you'll probably...