Football Improvement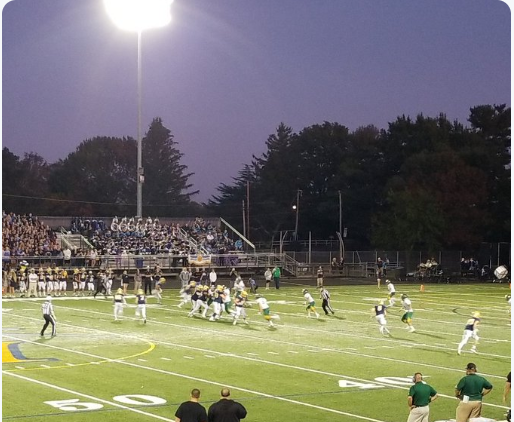 When you look back at the football season last year you ask, "What happened?" This season, with a start of 4-2, we ask, "What changed?"  
Mrs. Hall, study hall teacher and mom of football player Case Hall said, " I think the football team has gotten better this year because we have a new coach who has a new vision that is more unified." 
She's talking about David Bishop, who coached at cross-town rival Woodgrove High school in previous years. He's led our football team to a 4-2 start including a stunning upset at home against Riverside. He has been the catalyst for the football teams recent winning ways. 
"I think our new coach cares more about the whole person instead of just the record and so I think that is making the football players feel like they belong to something special," Hall said.
While Hall believes that the improvement comes from the changes in the front office, junior Henry Arze has a different take.
"I think we've done better just because we're tired of losing and changed our mindset," Arze said. 
In the past, losses have piled up for our football team. In the last two years they have had abysmal seasons, going 4-16, including last season where they went 1-9. 
Needless to say, our team was definitely tired of losing. Even through the hard times, the football players knew they could come back on top. 
"It started from the off-season weightlifting program, Coach Burt did a really good job of implementing hard working attitude," Junior offensive lineman Tommy Gaertner said.
For the football team, the work being put in during the summer finally lined up with their quality of play. Even through all the wins this season, there have been hard times. Being blanked by rival Woodgrove 20-0. Losing a close game to Loudoun County 17-7. But it's hard times that bring out the best leaders.
"Cooper Thunell has a fire mentality and it gets us rallied up even when we're down. I would also say, well, he brings a positive attitude and everything he does," Gaertner says.
While it's hard for players to deal with losing, it is even harder for the student section. People think, "Why should I go? They're going to lose anyways." However, the Jungle stayed strong even through the hardships. Now this year, they're basking in the glory of winning. 
"It all starts with winning, but also even when we're down, [The Jungle] still tries to fire us up, which is good. Also there is a lot more energy and attendance which you know, also helps us win." Gaertner said.
With other teams, winning can go to their head. Our football team is a different story. 
  "We also remember the past two years of what we've done in terms of record wise, so it keeps us pretty hungry. Coach Bishop preaches to us every week that we have to stay hungry and humble because four wins is not enough to create a winning season," Geartner said, "so we just have to keep piling it on."