Purcellville Just Got a Little More Spicy: Patama Review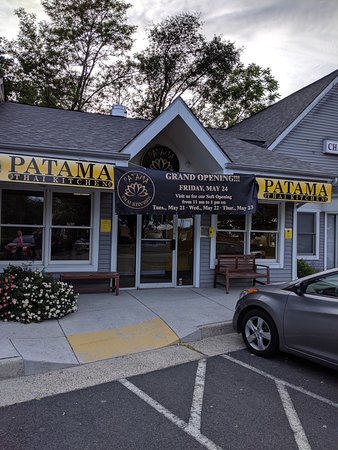 Walking into Patama, you are greeted by a different, yet familiar Purcellville Thai food aroma. Finn Thai now has competition because of a cheaper and faster new Thai restaurant. Located near Subway, Patama is in Purcellville's famous, constantly-changing building. The building was once a hair salon, candy store, and ice cream shop. This reputation is causing many residents to speculate about whether or not Patama will be able to keep their business open over a long period of time. Patama opened May of this year, and numerous happy customers were praising Patama for its authentic Thai food. 
 I visited Patama with my friend last week on a weekday. The restaurant was not too packed at 5:30 P.M. I assumed this was because it is still fairly new and we arrived right after school, too early for the dinner crowd. The first thing I noticed when walking into Patama was the way the tables were arranged in a drastically different way compared to how businesses located there in the past had approached the design. There were more tables at the front and sides, which provided a lot more seating than I anticipated. The restaurant itself gave off a very casual vibe. Right as we walked in, a Loudoun Valley student who works at Patama greeted us and gave us suggestions while also explaining parts of the menu. We chose to try Pad Thai, and Pad See-ew, both stir fried noodle dishes. One aspect of the restaurant that I enjoyed was the clear window along the stovetops. We could smell our food being made, causing time to go by faster. 
Compared to Finn Thai, Patama was lacking in the fact that it did not include a Sushi Bar or an assortment of drinks. The drinks consist of the average soda-machine beverages. Nevertheless, workers at both restaurants are very friendly and welcoming. The atmosphere of Patama is better for quick meals, whereas Finn Thai prides themselves on providing a sit-down dining experience. Finn Thai also provides many more dietary accommodations such as gluten-free and vegetarian options. The Pad Thai and Pad See-ew we ordered arrived boxed in huge cardboard boxes. The food was filled to the brim, so you definitely get what you pay for. The Pad Thai noodles had a nice texture and were not too filling. Because there is so much food in one portion, lightweight noodles were ideal. Within the Pad Thai there were lots of flavorful vegetables. Also, the Pad See-ew was flavorful and the broccoli was cooked well. The chicken in both dishes, however, was extremely dry. This was one of the only complaints regarding the food. The menu was extensive, so next time I hope to try some spicy dishes. If you are looking for quick yet authentic Thai food, I would suggest giving Patama a try.