Road to Recovery
Injury is one of the most frustrating experiences that an athlete can face. Every sport has some that are more common than others. Football players and concussions, soccer players and ankle sprains and shin splints in sprinters.
It's crucial for athletes to take care of their bodies before, during and after their performances to make sure they can get up and train the next day. Some injuries cannot be avoided, and an athlete gets hurt. These complications can last from weeks to months, which seriously affects a player's workout routine. With athletes being out for long periods of time, they can lose muscle mass and muscle memory.
Though sports trainers and athletes themselves tend to focus on the significance of the physical injury, the mental state is often overlooked while being "on the bench."
It is common for a player to lose hope after being out for a considerable amount of time, especially after being told that recovery could take longer than prefered.
Track and field is a very diverse sport because of the variations in competition. Some athletes are throwers, some are jumpers, some hurdlers, sprinters, pole vaulters or distance runners. Because of such variation, there are many different types of injuries that can occur. Throwers are much more likely to get a shoulder injury than a 5k distance runner.
Valley is known to be a distance running powerhouse ever since Drew Hunter ran for the team. Hunter is now a professional runner, and even when he was in high school, he broke several national records and won countless state titles.
Valley coaches Marc and Joan Hunter, Drew's parents, are one of the main reasons for his national success. The coaches have also won awards for their coaching talents and are known nationwide for their cross training, workouts and injury prevention exercises.
Noah Maze, a new runner to the Valley team has so far had an injury-filled season. Maze, a junior, was ecstatic about getting the opportunity to run for the nationally ranked team this past fall, when a knee injury came to haunt him. It would be easy to assume that with the adrenaline that Maze experienced coming into the program, his new injury would abolish all hope. But he has a better mentaltliy than most athletes with an injury.
"I always think about doubt," Maze said, "and like people who don't believe it because it motivates me a ton to think about, to do something that somebody doesn't think I can do. It's the fire inside of me."
Maze's personal record (PR) in the 1600-meter race is 4:32, putting him at a ranking of 144th in the state of Virginia. Maze wishes to run a 4:20 mile by the end of the spring season.
For Maze, having a knee injury does not stop him from chasing his dream mile time. Maze said he wasn't sure everything happens for a reason, but he believes that he can learn something from everything.
"There's something about taking away everything, so like I know that it sounds like a cliche but bad experiences make strong people, so going through hard times allows you to have some self reflection and to learn a little bit about yourself."
About the Writer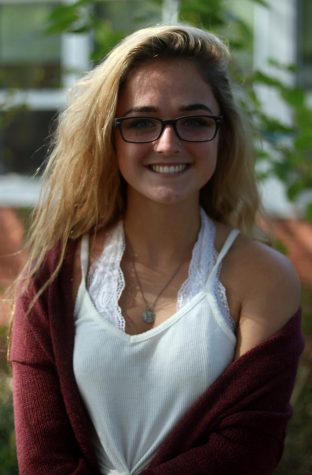 Isabelle Kidd, Staff Reporter
Hi! My name is Izzy Kidd, I'm a senior here at Loudoun Valley. This is my first time working for the Valley News, my job here is to design and to write!...