Students Athletes Staying Active in Quarantine
Cora Ely, Staff Reporter
November 22, 2020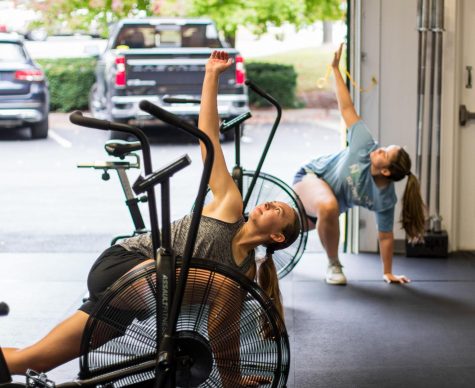 COVID-19  has shut down many businesses and places from big gyms across the country like Blink Fitness, LA Fitness, Life Time Fitness and 24 Hour Fitness to small, local gym businesses and everywhere in between. 
With gyms and school stadiums being shut down, it leaves athletes nowhere to practice and get better at their sport.  So during quarantine,  student athletes at Loudoun Valley had to get creative with how to stay active during quarantine. 
Not all sports were challenging to figure out. Individual sports weren't impacted much.  Golf and cross country, for instance, were mostly the same other than the need for social distancing and a few other restrictions so athletes could continue to be safe and healthy.
 "I run as my main sport, so most of my training was unbothered besides for the social aspect," sophomore Pearson Dhillon  said. "I ran from March to June by myself, which was very lonely at points."
Team sports face a greater challenge to continue to stay active as a team. Most students focused on self-improvement so when they got back to their team, they were better teammates and competitors than before. Some athletes found it a challenge without having their teammates' and coaches' support.
"I think overall even though it was a tough time, I definitely improved my mental game by being alone," Dhillon said.
Athletes like sophomore Kate Mercer, who plays soccer, focused on fundamentals to maintain their athleticism like footwork, strength, endurance, speed and correct form to help them perform better when they can get back on a field or court. 
"I practice technical skills for soccer such as  juggling, passing, dribbling," Mercer said. "I have a goal in my backyard that I shoot on as well."  
Gaining strength is another fundamental athletes work to improve on. Some students had weights in their homes that they used to get stronger, and others just found heavy items in their house to use as weights. 
"Without the school weight room that we used, I now use weights at home to get stronger with," Dhillon said. 
Endurance and running is another thing lots of students did because it was easy to do in quarantine. They easily went outside and ran or had ellipticals in their homes that they used. 
"I run everyday around my neighborhood and sometimes through the back roads near me," Mercer said. 
Ellery White, a junior on the girls lacrosse team, also took advantage of home equipment.
  "I love the Peloton bike that I use a lot in my home gym, along with going for runs," White said. 
This time for athletes to focus on individual skills they need to improve has actually given them the opportunity to grow and prepare for the season to come. 
"The hard work I have put in the past few months has shaped me into the confident player I am today," White said.