Virginia's Anti-Discrimination, Anti-Racist Movement: Progress made must be sustained
A wave of anti-discriminatory and anti-racist policies is enveloping Virginia and states across the nation, catalyzed by the horrific racially motivated murders of George Floyd, Breonna Taylor and Ahmaud Arbury, as well as the countless others who came before. 
It is often easy to bury Virginia's Confederate past and continue living as if we have truly reformed to the best of our abilities. But this year's social upheaval has shone a light on what has been our unacceptable reality for so long. 
Virginia has 96 Confederate monuments and 223 publicly supported Confederate symbols, excluding those that are mainly historical in nature. These are the highest numbers of any state in the nation, according to the Southern Poverty Law Center.  
Perhaps one of the most prominent symbols of the state is the 60-foot tall Robert E. Lee monument, towering above Monument Avenue in Richmond. In October 2020, a Virginia judge ruled that the statue could be removed under the governor's orders, who called for its removal in June 2020 in the midst of huge numbers of peaceful protestors and gatherings in front of the monument. 
Loudoun County cannot distance itself from the systemic racism that casts a shadow on places where justice and equality before the law must prevail. The "Silent Sentinel", a Confederate statue, stood in front of the Loudoun County courthouse since its unveiling in 1908. On July 9, 2020, the Loudoun County Board of Supervisors (BOS) voted unanimously in favor of returning the statue to the Loudoun Chapter of the United Daughters of the Confederacy. 
The WWI Memorial Plaque, also displayed on the Loudoun County courthouse grounds for almost a century, segregated the names of the fallen Black soldiers with a dividing line. On Dec. 9, 2020, the BOS unanimously approved the replacement of the plaque with one where the soldiers' names are listed alphabetically. 
The principle behind these actions has also been mirrored in recent state policies. On July 1, 2020, Gov. Ralph Northam signed into effect legislation that makes it illegal for Virginia employers to discriminate on the basis of gender identity, veteran status and sexual orientation. This makes Virginia the first Southern state to enshrine anti-discrimination protection for LGBTQ+ workers in law. Virginia is also the first Southern state and one of only three other states to ban hair discrimination under the Crown Act. Furthermore, the Commission to Examine Racial Inequity in Virginia Law is combing through current Virginia policies to pinpoint those that allow inequities to take root, and to make recommendations on ways to protect minorities and marginalized individuals in the state's laws. 
These actions towards a more just and unified Virginia and nation must be the beginning of a sustained movement that cannot be allowed to stagnate. Not only must we purge Virginia's current laws of discriminatory language and remove racist symbols from their pedestals of prominence, but also spread a grassroots reckoning. There is infinite room for progress when it comes to truly recognizing and dismantling one's own prejudices, and it needs to start at the level of education. The racist rhetoric that permeates the minds of younger generations needs to be combated with moral education that not only exposes students to the endless timeline of discrimination, prejudice and hate in the world's history, but also ways to be proactive. 
One way to step out of the role of a passive bystander is by donating to or volunteering at local branches of organizations such as Black Lives Matter, NAACP, Until Freedom and Color of Change. Another avenue is to identify policies in the community that could exacerbate injustices and bring these issues to the attention of local lawmakers. Simply seeking out the perspectives on certain global issues from a diverse group of people and consuming literature about institutionalized racism and discrimination in the world's history will also help move the needle towards an improved future. 
The nation is splintered into fragments of a conscience. But in whatever position that you are in, there is always a way to consciously be more inclusive and aware of the history that remains in the present. 
About the Contributor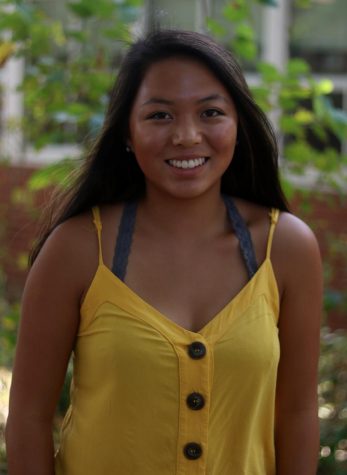 Sarah St. John, Assistant Editor
Hi! My name is Sarah St. John, and I'm co-managing editor on staff. I am a junior, and this will be my second year on staff.

I love all things graphic...