New Year, Healthier Me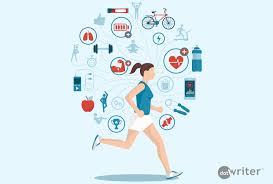 Mercy Soly, Media & Features Editor
January 15, 2021
Every new year promotes fresh goals and ideas.  Health and fitness routines take priority for 2021.
According to Today Yougov, 50% percent of American adults are set on exercising more and improving their overall fitness and health. While they may not actually set a resolution, they are focusing on  improvements for a healthier self like exercising more, losing weight and improving their diets.
Senior Anastasia Stubbs says she wants to work on creating and exploring a healthier diet. 
"I realized that I wasn't eating as healthy as I should be, since I do exercise a lot," Stubbs said. "I hope to better my diet by eating things that are better for me like oatmeal and more vegetables like spinach."
Especially now, maintaining a healthy and well-rounded diet is important for the body and one's health.  
Covid-19 has had a direct impact on what people direct their energy towards for the new year. After a hard 2020, many are choosing to prioritize their health—both mental and physical. 
Cratejoy, a website used by businesses to interact and inform their consumers,  notes that 86% of people are working towards bettering their mental health and prioritizing self care. Behaviors focused on maintaining safety are important as well. During the pandemic, the health of others forced sacrifices and changes to keeping participants safe and allow extracurriculars to continue. 
"At my dance studio, despite it being uncomfortable, I wore a mask to keep myself and others safe," sophomore Emmaline Fontanilla said. "Dance is something really important to me, so I will do anything I can to ensure I can still do it into the new year."  
With the ending of Covid-19 not in the foreseeable future, others are making sure to prepare themselves in the scenario they come in contact with the virus.
"Before the pandemic and the New Year, I wasn't eating properly or taking my vitamins, but now I am really working on my diet and taking my vitamins," junior Ashlyn Cool says. "I want to be healthy enough to fight it off."