Where To Next?: Republican Party Frantically Seeks Path Forward Following Divisive Election
Even prior to the shocking events that transpired on Jan. 6, the Republican Party was already experiencing infighting. Day after day, Donald Trump attacked the integrity of the election and cast doubt on the legitimacy of Joe Biden's victory. This put many congressional Republicans in the hot seat and intensified the growing rift within the party. For Republicans, two paths were forged. Either stick with Trump's radical rhetoric and his far-right voters or vote to convict during the impeachment trial and essentially eliminate any ties the Republican party has with Trump. 
Jan. 6 is a day on the Presidential Election calendar that usually passes without much fanfare. Typically, senators and House members alike come together to certify each state's Electoral College results. Within 30 minutes to an hour, they've voted and certified the election results while also officially naming the president-elect. 
But, much like most of this past year, Jan.6 was not a normal day. That day, 30,000 furious Trump supporters gathered in Washington, D.C. to protest what they believed was a stolen election. They proceeded to march down the National Mall to vandalize and storm the U.S. Capitol all while wreaking havoc on the Electoral College count happening at that very moment. Reactions of shock reverberated across the country.
"I hated to see my flag treated the way it was," Loudoun Valley Republican Club member Larsen Plunnecke said. "The riot was very uneasy to watch." 
"I feel their actions don't correctly represent the party," she said. Both Plunnecke's and Dawson's reactions were shared throughout the Republican Party, all the way up to the top. 
Then Senate Majority Leader and Senator from Kentucky, Mitch McConnell, spoke following the siege 
"They tried to use fear and violence to stop a specific proceeding of the first branch of the Federal Government, which they did not like," McConnell said. 
This attempted coup had resounding effects on counting of the Electoral College, which had to be stopped and then later finished at 2 a.m. 
Prior to the storming, many Senate Republicans had planned to object to the certification of Electoral College votes from states such as Arizona, Georgia and Pennsylvania. But after these horrific events, both Sen. Kelly Loeffler, R-Ga., and Sen. James Lankford, R-Okla., announced they would no longer object. 
"The events that have transpired today have forced me to reconsider," Loeffler said.
Though all Republicans may have agreed that this riot was an egregious and dangerous act that would not be tolerated, they could not agree on its main cause. 
Sen. Mitt Romney from Utah, the lone Republican who voted to convict Donald Trump during the impeachment trial, described this riot as an, "insurrection incited by the president of the United States." While Senator Josh Hawley from Missouri, still went ahead with his plan to object, even after a mob stormed the Capitol and left five dead. 
 "I will not bow to a lawless mob, or allow criminals to drown out the legitimate concerns of my constituents," Hawley said.
 Though Hawley may be attending to the needs of his constituents, as he says, many believe his actions show simply his intent to run for President in 2024 and he's not the only one. Sen. Tom Cotton, R-Ar., and Sen. Ted Cruz,  R-Tx., have both shown interest in presidential runs, banking on their radical rhetoric, Donald Trump's support and most importantly the same voters who stormed the Capitol. Therein lies the first path. Carrying the torch, keeping Trumpism alive in the Republican Party. 
Now the second path doesn't look too good either. Ridding Trump from the Republican party will be no small task, but it does help when the Republican Majority Leader in the Senate, Mitch McConnell, is quietly lobbying for Trump's removal. 
McConnell has privately stated that he wants Trump gone, and now voting to convict during the impeachment trial seems like the best option. The trial itself won't start until Feb.9, and along with a possible conviction, Trump could face a clause banning him from holding office ever again. 
House Democrats inserted a clause into the Articles of Impeachment saying Trump "aided" those engaging in "insurrection or rebellion." Ok, and? Well, the 14th Amendment states, "No Person shall hold any office under the United States that has engaged in insurrection or rebellion or given aid or comfort to the enemies thereof." Whether or not this comes to fruition is up to Senate Republicans, but at the moment this seems like the quickest way to banish Trump ties with the Republican party. 
Both of these diverging paths drive Republicans further apart and give neither side an upper hand. If Hawley, Cruz and Cotton continue Trump's legacy, they'll gain half of the Republican party's voters, the loyal Trump supporters. 
If McConnell and Romney go through with banning Trump from the Republican Party, they'll gain the other half of the party's voters, the centrist right-leaning, never-Trumpers. 
Neither side will gain enough voters for a Republican to take back the White House. If Republicans don't come together quickly and patch up the heavy damage, the Republican party will crumble and eventually disappear.
About the Writer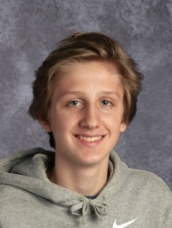 Patrick Stevenson, Staff Reporter
Hi, I'm Patrick Stevenson. I'm an 11th grader here at Loudoun Valley High School. This is my third year as a staff reporter on the newspaper.

I'm...