In Conversation With Sammi Saba: Launching a Jewelry Business
Junior Sammi Saba has always had a knack for making her own jewelry. From Rainbow Loom bands to craft kits found at Michaels, she's been making bracelets for her and her best friends since she was little. 
"Like every other pre-teen back then, I used to make bracelets and earrings for my friends and I all the time," Saba said. "Last year I finally decided to turn that hobby into a business." 
Saba said that she sticks to buying her jewelry materials and tools from only two businesses.
"I buy charms on Etsy if I'm looking for something really specific, but for things like pliers and fish hook earring hooks, Michaels is always the way to go," Saba said. "They have an endless variety of tools, and sometimes I actually discover new ways to create jewelry while glancing at the displays." 
Saba said that the pandemic played a huge role in the creation of her Etsy shop. 
"With school being closed and all of us stuck in lockdown for weeks, I figured why not just launch a business and make some extra money on the side," Saba said.
"
Making customers smile is my favorite part of the entire process."
However, Saba's encountered financial setbacks along the way.  She uses the money she makes working at Dunkin' Donuts to buy her supplies, but finds it increasingly difficult to save even a quarter of her paycheck to spend on herself. 
"I didn't realize how expensive making jewelry really is. It makes it hard to find the motivation to keep my business running when charms and tools cost me almost an entire paycheck," Saba said.
Despite the challenges, Saba believes there's one thing that makes the struggle worthwhile. 
"I absolutely adore when the buyers send me photos of them wearing my jewelry, telling me how many compliments they've gotten and how much they love them," Saba said. "Making customers smile is my favorite part of the entire process."
Saba emphasizes the love and care she puts into every package.
"Each one is curated for the buyer and a lot of effort and attention goes into every order. I write handwritten notes in each one and my packages are created with recyclable materials to decrease any extra waste," Saba said.
 Today, Saba stresses the importance of venturing into new hobbies for the lessons they might teach you. She explains how she had already been buying from small businesses before the pandemic, but ever since she launched her own, she learned how much work really goes into having one. 
"Knowing the ins and outs of every little thought that goes into a single order has made me gain a new respect for small business owners," Saba said. "Like everybody else, the pandemic has been difficult for me to adjust to, but without it, I would've never ventured into something this time-consuming, and I'm very glad I did."
Sammi Saba's Etsy shop CollieCottageCo is still in the works, but stay on the lookout for any new items she posts @sammi.saba on her Instagram Story. 
About the Contributor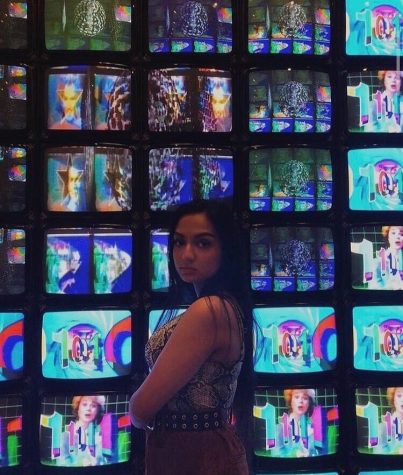 Alina Alam, Staff Reporter
Hi, my name is Alina Alam, I'm a senior, and this is my second year as a staff reporter at Valley.

Here are some things I love (in no particular...