5 Minutes With Sophomore Elise Bowen: Penned Perspectives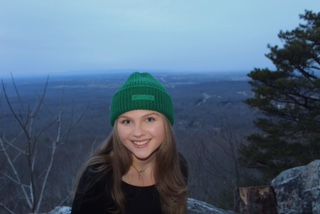 When it comes to the future, the possibilities are endless. Sophomore Elise Bowen has dreams and hopes to one day change the world, one word at a time.
"I would like to be a writer when I grow up," Bowen said. " I feel like writing has the power to change lives, and I know this sounds horribly cliche, but when you write, I think it is easier to make people see what you need them to. It has the power to change the world."
Bowen believes writing is something that cannot be easily ignored compared to other sources of media and expression.
"In writing, I think there is a certain level where people have to listen to what you are saying," Bowen said. "You can't pick and choose what you are listening to because it is all there on paper. You also can't ignore what people say in writing because you have to take it all into perspective."
Surrounded by writing at a young age, Bowen picked up skills to make her a better writer.
"My parents have both been newspaper editors, which is where I got the grammatical dominant side of my writing," Bowen said.
The support she receives from her parents and family has been a comfort to her and her writing.
"My dad has always been super supportive of my writing and just letting me know that even when I don't write the most perfect thing, I'm still staying true to myself and writing is important for the world," Bowen said.
  However, Bowen didn't always want to be a writer. 
"When I was younger, I wanted to be an actress," Bowen said. "My whole life I've always wanted to do something where people know my name," Bowen said. "I think the great thing about it though is as a writer, you have the power to build the stories actresses and actors carry out. So even if I'm never getting to be in those stories, I can build those stories. Therefore, I am creating what I want, what I once wanted to be."
  In the past, inspiration is something Bowen has always allowed to alter or change who she was or wanted to be.
"I don't take inspiration from famous people now because I want to be wholly me in everything I do. I think I spent way too much of my life trying to be like other people. And now that I am where I am in my life, I have recognized that there is a way to build yourself as a person without having to let go or take anything away from who you really are," Bowen said.
Today, Bowen is inspired by someone closest to her, who offers a different perspective that she doesn't think she could find in anyone else.
"My grandmother is my greatest inspiration. Which I guess is a little weird to say because my grandmother is not at all a writer. In fact, she has nothing to do with the writing field," Bowen said. "She is actually a teacher, the one thing I could least see myself doing in this world."
Through the pandemic, Bowen has been the primary caretaker for her grandmother, who suffers from dementia. Bowen has gained wisdom, which she applies to her writing.
"In being my grandmother's friend/caretaker, I realized that life is very short. There are a lot of things that we could forget and things that nobody will ever remember ever again," Bowen said. "I think that's what I find the most important about writing because unless we write it down someday, nobody is going to remember it. And I think there are a lot of people and experiences and lives led out there that need to be written down."
Bowen's grandmother has provided her with insight on what is important and where value lies in everyday life.
"The biggest thing that she has taught me is even if your life seems small and your territory is small and the places you've been are minimal, you still have a history and something that someday someone will come looking for," Bowen said. "I want people to come looking for it and find it and know that they have like, I don't know, I guess to know that they have been found."
"
The biggest thing that she has taught me is even if your life seems small and your territory is small and the places you've been are minimal, you still have a history and something that someday someone will come looking for."
Bowen favors a large spectrum of works done by other writers, like "I'll Give You The Sun" by Jandy Nelson. Bowen describes the feeling of first reading the story as, "being blown away," and , "an accurate portrayal of life at it's finest and least finest moments."
"The way that the author wove together the good and the bad moments and the past and the present and just made it seem like even small people have big stories, I felt like that was one of  the most important bits of writing people could and should read," Bowen said.
Another novel that most recently motivated Bowen back into writing is titled "They Went Left," by Monica Hesse. A story about the rehabilitation endevaours that took place after the Holocaust.
"I find this story also super important as well because I feel like we don't hear a lot about the rehabilitation efforts after the Holocaust. We hear a lot about the horrors that happened during it, but we never hear about how the world and lives were rebuilt," Bowen said. " How did we get where we are today? I think those gaps in history that nobody ever talks about are somehow the most important because it's what happened in between. It influences where we are now."
Bowen works endlessly to support herself in any and all ways in her pursuit of becoming a writer. Especially in taking time to examine and appreciate others' work.
"Above all, I like reading other people's writings and memoirs and their opinion pieces and saying what I would have, to add to that,"  Bowen said. "If I can read a really good essay and then I can think 'wow, they missed some of these points,' I want to be the one to write about those points. It is not that I want to discredit that author for missing points, it's that I want to add to the gaps. That is my main mission above all else,it is to add to the gaps in both our present world, our past, and build it for the future."