Senior Jordan Janson Shares Her Experience as President of Student Council Association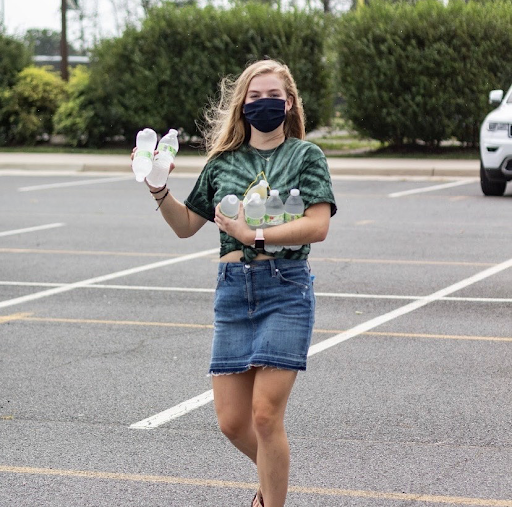 Senior Jordan Janson celebrates her final days in Student Council Association (SCA) as her sixth year in the class comes to a close. Janson began SCA as a seventh-grader when she applied to be a homeroom representative at Blue Ridge Middle School.  This organization allows students to plan school or community activities and communicate regularly with the administration. Her career in SCA flourished soon after she applied to join Loudoun Valley's SCA in 8th grade. Janson served as Vice President of Community Service her junior year and President her senior year. 
"My experience in SCA has been incredible.¨ Janson said. ¨It's cool to be surrounded by a group of people who are very energetic and extroverted and people who genuinely want to change the community for the better."  
Running for President was no easy task for Janson, especially since the election took place online. 
 "The past few years, I've been building up an SCA resume, if you will, like I planned all the pep rallies pretty much all my junior year and it's a lot of work," Janson said. "So, it's really hard to kind of run and tell people that are voting for you that you want to do all of these things, and then not even have the ability to do them."
Janson has been anticipating her last year in SCA by building a list of ideas and tasks she wanted to accomplish. However, online school has restricted her from being able to bring these ideas to reality. 
"I had a lot of ideas that I wanted to implement into Valley that hadn't been there before. So it's been really hard that I haven't been able to do those things. But at the same time, I feel really blessed to have been able to be somebody to lead and support a group of people in a really hard time," Janson said. "I feel like I've taught them a lot. Whereas they've also taught me a lot about perseverance and just staying strong, even though it's really hard to, especially in the current world situation that we're in."
Running an online class during a pandemic has forced Janson to find new ways to get students to bond. To solve this problem, she held leadership activities at the beginning of every class. 
"It's been hard but at the same time, where there has been bad there has been good because we did miss like a certain point of bonding because we weren't like in person and stuff, but we worked even harder to maintain communication with each other and have close intimate relationships," Janson said. 
Along with meeting in class, the six officers meet with each other every Friday and with the school's administration every other Friday to facilitate better communication. The class was able to act as a voice for the student body when the classrooms were empty. 
"We were meeting no matter what this year, even if we weren't getting permission on activities, we were just being kind of the communicators from the rest of the student body to the administration about how everybody was doing and what we could do and what we couldn't do," Janson said. 
In past years, communication with the administration has allowed SCA to plan and get big events approved, such as pep rallies, football games, homecoming and spirit days. Event planning and participation often caused members of the organization to miss out on school-run social activities.
"We do sacrifice, not only a lot of like academic time, but a lot of social time as well," Janson said. "I mean, we have to meet after school, sometimes we have to miss the beginning of games, we don't get to participate in pep rallies, we don't get to be on like a homecoming court or anything like that. So it can be really hard and frustrating as an SCA member."
SCA participants also have to sacrifice their study hall block, for SCA replaces it. Janson has continuously made academic accommodations to ensure educational success while taking on numerous SCA responsibilities.  
"I don't think that the rest of the student body realizes how much SCA really does and how much work we put in this, like, we are sacrificing a whole study hall for four years, which, I mean, may not sound like a lot, but when you're taking all AP classes, and really rigorous schedules, it is a lot," Janson said. 
In order to balance SCA, classes and sports, Janson relied on time management techniques. 
"It's really important to figure out time management your first year, especially if you're coming into SCA as a freshman because freshman year is a little bit more lenient in academics," Janson said. 
Participating in SCA leadership roles and event planning has taught Janson skills she will need for her future.
"Especially in an organization with, kind of like I said in the beginning, very strong, dominant personalities, it's really important to be able to humble yourself and admit when you're wrong, and to sit back and listen to other people,"  Janson said. "I would say that it's just very important to be open-minded and to be selfless."
Janson has loved her experience on SCA and plans to continue her career at Christopher Newport University by applying to their Study Body Government. She is also majoring in political science with hopes of going to law school. 
"I want to be able to have, you know, say like what goes on in school. I also plan on joining like some other clubs, like maybe a religious organization or like a running club or something, just kind of have stuff away from my academics that I do still feel passionately about," Janson said. 
Janson's time in SCA has left a lasting impression on her life that she will carry with her through college. She hopes others can experience the inviting community and challenges that come with joining SCA. 
"I really enjoy working with people who have other people's best interests at heart," Janson said.