Under the Surface: A review of Netflix film "Seaspiracy"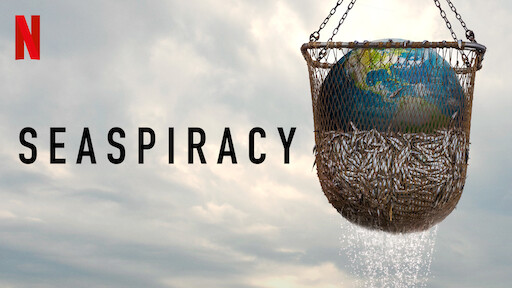 The new Netflix documentary "Seaspiracy" has caused waves since its release in March 2021. The documentary is directed and narrated by Ali Tabrizi, and it showcases the devastation to marine life caused by commercial fishing. Tabrizi went to the London College of Communication before working on several environmental documentaries alongside close friend Kip Anderson. Anderson and Tabrizi's wife, Lucy Tabrizi, assisted him in his latest passion project and creation: "Seaspiracy". It appears to be a powerful documentary to inform people about the dangers of overfishing in our environment. However, it contains misleading information. 
One afternoon in March, I was looking through my Netflix and stumbled upon "Seaspiracy," a seemingly impactful documentary about our oceans. I was looking forward to watching it after reading its description but was quickly saddened and left in shock by the images of dead marine life and plastic piles in the ocean. The fast facts were difficult to keep up with,  leaving only the images and strong message against seafood in my mind. However, after some research, I realized that is exactly what the documentary was meant to do. 
Seaspiracy may have been made with good intentions, but the documentary contains a slew of misinformation, misleading quotes and slams the industrial fishing industry, which is critical to approximately 3 billion people who rely on the industry for critical nutrition and food security. 
In Tabrizi's quest to expose the fishing industry for harming marine life, he interviews Mark Palmer, a representative for the Dolphin Safe tuna label, to help confirm his idea that Dolphin Safe labels are not trustworthy. In the documentary, Palmer is quoted saying, "There are no guarantees in life."
After the film's release, Palmer made a statement saying that his quote was taken out of context, and provided the real quote, where he actually said, "There are no guarantees in life but that drastically reducing the number of vessels intentionally chasing and netting dolphins as well as other regulations in place, that the number of dolphins that are killed is very low."
 A similar situation occurred with environmental social scientist and professor Christina Hicks, who was interviewed for the film. She believed that her quote was also taken out of context, and posted a tweet responding to the film, suggesting that she felt misrepresented.
 In addition to out-of-context quotes, the film has been met with claims of including inaccurate facts.  The facts in the movie are often not cited, making it difficult for anyone to fact-check. But several marine organizations have come out with statements countering "Seaspiracy's" statements. 
One of these organizations was the Marine Stewardship Council. In the documentary, Tabrizi stated that sustainable fishing was unattainable and that the council was part of the problem. However, the Marine Stewardship Council disagreed and put out an official statement responding to Tabrizi's allegation against the company. The Council said that sustainable fishing does exist and that millions of people rely on it for nutrition.
Sustainable fishing adapts to the reproduction rate of fish while respecting marine habitats through fishery management. Sustainable fishing has been practiced for thousands of years in countries such as Vietnam, India and Africa. They practice sustainable fishing through several different mediums. One being cast-net fishing which allows dozens of fish to be caught at one time. Sustainable fishing practices are important to these areas to provide nutrition to the people who live there. 
Although the allegations that "Seaspiracy" has faced are serious, the message behind the documentary is important. Tabrizi is trying to warn us that some fishing is not sustainable and can be dangerous for marine life. The documentary also brings ocean pollution such as plastic contamination to the attention of the audience, which is a serious problem contributing to climate change by creating greater carbon emissions. 
Overall, I would recommend watching  "Seaspiracy" because it touches on important environmental issues. But viewers must also be aware that the documentary could be perceived to have a vegan agenda that it is trying to push by using storytelling rather than accurate facts.