Offense Sets the Tone, Defense Finishes the Job, as Valley Routs Annapolis Area Christian
In their season opener last week at Freedom High School, Valley football momentum was halted by a lighting delay that stopped play. This past Thursday in their home opener, momentum was never in question as Valley dominated start to finish, handily defeating Annapolis Area Christian 38-6. 
The game as a whole was a rare occasion as it was played on a Thursday afternoon, during the school day. Valley administration made sure to accommodate the occasion, crafting a shortened bell schedule allowing students to attend the game free of charge. These accommodations created a monstrous group of roaring students and fans. 
Valley started the first quarter with a tough defensive possession, standing tall and stopping Annapolis Area Christian on third down, forcing them to punt. Junior punt returner Carl Strange set up the Vikings nicely at the 20-yard line with an ankle-breaking, defender-shaking 30-yard punt return. A mere two plays later, Valley punched in their first touchdown with a 5-yard run from senior running back Blake Moore. Senior kicker Henry McClellan made it 7-0, burying the point-after attempt. 
Valley added to its lead when senior quarterback Logan Small dropped a 30-yard dime to junior wide receiver Julian Randolph. Randolph, 6'5", easily snagged the pass over the undersized double coverage of Annapolis Christian's safety and cornerback and ran it in for the touchdown, 14-0. 
As Valley entered the second half with a 14-0 lead, looking to pad their lead and put the game away for good. In an almost exact replica of the first half, Valley started the third quarter with another defensive stop followed by a Carl Strange 30-yard punt return, giving the Vikings positive field position. Blake Moore put the Vikings up 21-0 with a strong 10-yard touchdown run, his second of the afternoon. Moore extended the lead late in the third quarter, giving  Valley a 28-0 lead. 
Valley's defense shut the door on any Annapolis Christian comeback in the fourth quarter. Senior defensive end Cam Miller led the defensive charge with three-and-a-half sacks, four tackles for losses and one forced fumble. Valley tacked on yet another touchdown late in the fourth quarter from senior Isaiah Stokes, putting the game away. 
The Vikings will look to add to this hot start to the season as they face off tomorrow against Broad Run High School.
About the Writer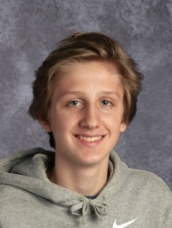 Patrick Stevenson, Staff Reporter
Hi, I'm Patrick Stevenson. I'm an 11th grader here at Loudoun Valley High School. This is my third year as a staff reporter on the newspaper.

I'm...