With Famed Coaches Gone, Kevin Shirk Takes the Reigns as Head Cross Country Coach
7 years.
That's all the time it took for Loudoun Valley cross country and track coaches Marc and Joan Hunter to rack up and coach 18 VHSL Regional Championships, 15 VHSL State Championships, two consecutive Foot Locker Cross Country National Championships, one Gatorade National Runner of the Year and countless Division I cross country and track athletes. 
As the Hunters' illustrious high school coaching career comes to a close, a new one blossoms from it. Enter new head coach Kevin Shirk. 
Shirk understands the massive shoes he's stepping into as the Hunters leave but seeks to continue the success in any way he can. 
"Of course it's a little intimidating knowing the outside expectations placed on this program.  I accepted the position prepared to take on the tough task of maintaining that legacy," Shirk said. "That legacy already lives on in the athletes we currently have on the team, and I'm sure the success will follow the hard work that we're already putting in."
Shirk comes from a decorated cross country coaching background of his own, one that began at Millbrook High School 10 years ago. While at Millbrook, Shirk led the program to a total of eight state meet appearances as well as being voted four-time Winchester Star Coach of the Year. 
With all the accolades and awards comes experience, which for Shirk made the transition from Millbrook to Loudoun Valley seamless. 
"It has been as smooth of a transition as I could have ever imagined.  When I left my previous school, the athletes there had a very hard time adjusting to the new coach because there was no transition period," Shirk said. "Fortunately, I learned from seeing that, and when I was hired at LVHS I reached out to the Hunters to have them lend a hand in getting me acquainted with the team's routines, practice locations and traditions."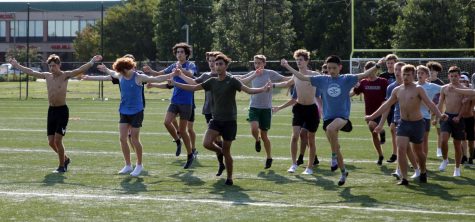 Coming into the season, Shirk understood there would be a learning curve for both him and the athletes he was to coach. 
"For some kids, they were excited and ready for a change, while others it took a few weeks to adjust to a new coach, " Shirk said. 
Senior cross country star Ceci Fetterolf noticed a contrast in coaching during the transition. 
"It's definitely different because he changed the training a little bit and has different approaches to things, but he's pretty good so far."
She understood that the strong bonds between coaches and athletes would continue to be forged throughout the season and wouldn't come all at once. 
"He doesn't understand what everyone on the team needs," she said. "He's trying to learn how we all should train, but it's difficult when he hasn't seen our training before."
One thing Fetterolf and Shirk do share, however, are lofty goals. Both hope to capture the state crown, with eyes on advancing and competing in nationals. 
Shirk has confidence in his team. Now he just asks for it in return. 
"When I took over the program and told the team about some of the subtle changes that I would make, I asked them to simply 'have faith,' that same simple concept became our motto for the season: Believe, believe, belie