Following Year Hiatus, Valley and Woodgrove Basketball Renew Their Storied Rivalry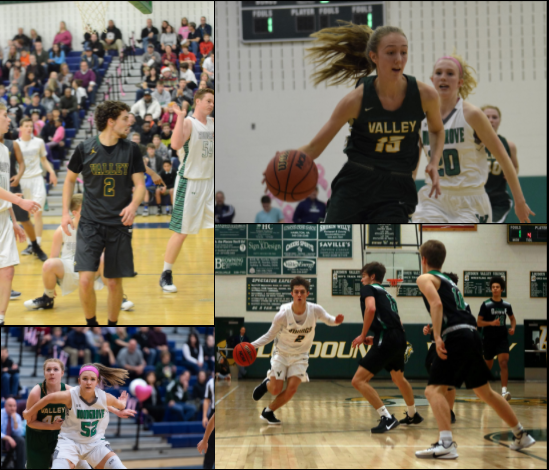 You've heard of the Iron Bowl between Alabama and Auburn. The Red River Rivalry between Oklahoma and Texas. The Holy War between BYU and Utah. All are legendary rivalries oozing with passionate, sometimes crazed, fans who support their teams through thick and thin. Here in Purcellville, Virginia we have a rivalry that mimics the same passion and energy as those national matchups,  Woodgrove vs. Valley. 
Last winter, COVID-19 put the rivalry on hold for the boys and girls basketball teams, the first time they hadn't faced off since Woodgrove opened in 2010. 
Senior Valley girls basketball star Jane Bodamer has always cherished the opportunity to play such a big rival. 
"It was somewhat disappointing because they are our rivals, and it brings a lot of school spirit," Bodamer said. "It is also hard to see how the teams compare because two years can make a big difference in team skill."
Senior Valley boys basketball captain, Ben Hall, noted the importance of such a game for the graduating class. 
"It was hard on everyone not being able to play the most fun game of the year and especially for our seniors last year who never got to experience the fun environment of the rivalry game," Hall said. 
Going into the heated matchup this year, the game plan for both teams leans heavily on the closeness of the rivalry and having played with or against players on the opposing team before.
"I think it is a little harder going into the game this year not knowing how they played last year," Bodamer said.  "I have watched film and played with some of the players individually, but it isn't the same as playing against them as a team." 
Hall has experienced a similar situation with many of Woodgroves players. 
"If they had been any other team we wouldn't know much about them, but they are all people we have played AAU, a travel basketball league,  with for many years now, so we know what to expect from them," Hall said. 
Even though Woodgrove doesn't share the same District for sports, thus games against them don't count towards District playoffs, Bodamer and Hall grasp the weight this game holds for the school and the community. 
For the girls team, a victory in this game means they would extend their unbeaten streak against Woodgrove to four years.
For the boys team, a victory could pave the way for young and developing players to show their true character and distill pride within the halls of Valley. 
Hall encapsulates a thought that has been on the minds of all Valley supporters, that losing is just unbearable, especially to Woodgrove. 
"This rivalry has gone in our favor in basketball for many years now," Hall said. "That makes us hold a sense of pride for our team."