Student Athletes Say Thank You to Athletic Trainer, Andy Gordon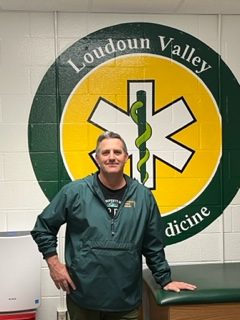 Athletic Trainer Andy Gordon helps student athletes reach their full potential and success. 
"I have been an athletic trainer since 1990 and started working at Loudoun Valley as the full-time athletic trainer in 1996," Gordon said. 
Gordon said he was once a pre-med student in college, but switched majors.
"I was originally a pre-med student," Gordon said. "But my work in the UVA hospital led me to forego medical school and switch my major to sports medicine so I could combine both of my interests in sports and medicine."
When Gordon was in college, one could become an athletic trainer with a bachelor's degree and pass the three-part National Athletic Trainers' Association national certification exam. Now, one must have a Master's degree in addition to passing the national exam.
Gordon was actually a Valley student athlete as well, though he played on Fireman's Field because there hadn't been one built at school yet. He played for Valley his junior and senior years after moving from Massachusetts.
"Back then, there were only four high schools," he said. "So we had many long road trips to play schools in our district, which spread from Manassas to Front Royal and Winchester areas."
 One reason Gordon returned to Valley as a staff member was that his wife, who also attended Valley, wanted to move closer to home.
"I started working in Leesburg at a sports medicine clinic where I went to LVHS and LCHS twice a week to evaluate and treat athletes," Gordon said. "In 1996, I was asked to speak to the LCPS school board about the need for a full-time athletic trainer at each of the high schools."
After the position passed and was funded, Gordon decided to accept the position at his  old high school.
"Once a Viking, always a Viking," he said."
Senior Kimmy Farrey, a four-year track and field and cross country athlete at Valley, said she always feels comfortable around Gordon. 
"Walking into his room, he does a lot of small funny things," Farrey said. "He makes dad jokes and jokes around a lot, which really lightens the room when you are coming into his room worried about a bigger injury that might take you out."
Farrey said while she likes Gordon's humor, she really appreciates his ability to educate the athlete on what might be wrong.
"He is also serious and knows his stuff, and tries to explain it to you. Andy won't dumb it down, but he also won't use language we might not understand," Farrey said. "So you understand what he is doing, but you don't feel stupid."
Farrey describes Gordon as, "kind, knowledgeable, and funny."
A special memory Farrey holds close to her heart while at Valley is one of her sophomore year, during her indoor track season.
"I remember a lot of the girls went to Andy because our bodies were just kind of dead and he brought out the whirlpool for us," Farrey said. "There were three of us around it, and we were just talking and joking around and I think it was one of my best experiences because he didn't get it out a lot. But since we were going to regionals, it was kind of like an award."
Despite being qualified to be an athletic trainer on the college or professional level, Gordon enjoys being with high schoolers the most.
"My favorite part of my job is dealing with the students, especially since I get to deal with a new group each year, as the freshmen come to Loudoun Valley," Gordon said. "I work at the high school because I believe the student-athletes and parents appreciate my help more than a college or professional athlete might do so."
Livy Keane, a senior student athletic trainer, feels the Athletic environment is unique because of Gordon.
"He makes the environment so special just by being himself," Keane said. "His personality makes the department so special because of his happiness and attitude towards it. You can really  tell how much he loves to be there and how much helping the students brings him joy." 
As a senior, some of Keane's best memories at Valley are through Andy and what she's learned from him.
"I've learned so many things from Andy, like taping ankles and dealing with bleeders," Keane said. "I actually became a student aid because one of my best friends Olivia, who graduated last year, wanted me to do football with her as a student aid, and I fell in love with it and I continued doing it this year, and it's made my senior year very special."
The passion Gordon has for his job is inspiring to Keane.
"I didn't really want to go into athletic training at first, but now it is something I am really thinking about," Keane said. "Doing what Andy does on a regular basis and being someone like him, it just seems so fun because he makes it seem so fun."
Keane believes that without Gordon, her high school experience as an athlete and aid would not have been the same.
"He is just such a nice person, and the best teacher and mentor for athletic training," Keane said. "My high school experience would not have been the same without him."  
Athletic director Kris Kelican said the department at Valley wouldn't be the same without Gordon.
"He has been taking great care of our athletes for many years now and creates special bonds between the coaches, athletes, administration and parents," Kelican said. "Andy's experience and dedication allows him to do a great job on a daily basis, and we are so lucky to have him."