Home for the holidays: Loudoun County recognizes diversity, multiculturalism
532 days—that's how long Loudoun County stayed in isolation. More days off from school may seemingly be the last thing we need: or is it? 
Taking a look at the expanded, more inclusive calendar that's been adopted for this year, you'll see how minority-celebrated holidays now have a place in our school system. Representation is vital to our community, as education about our peers does not always have to take the form of a classroom and a report card. 
Taking a moment to see our differences and give those around us the time to celebrate their respective holidays creates a space for growth, acceptance and geniality. Thus, we believe these changes to the calendar are necessary, and must be continued in future schedules. In a world with this all-embracing calendar, everyone has a home in Loudoun.
Yom Kippur, Diwali, Lunar New Year and Eid al Fitr were added to the official calendar, all of which were not given off last year. With these alterations, we now see representation of Judasim, Hinduism and Islam, as well as cross-culturalism when considering Lunar New Year. 
These strides are a great start to facilitating a fully realized learning space. But, there are still other holidays that have not been included in LCPS school calendars that may continue to benefit students. 
Passover, for instance, begins on April 5 and ends on April 13—a similar timeframe to Easter, which occurs on April 9. However, only the week before Easter is given off, while the week after, when Passover is celebrated, is not. 
Taking it a step further, we can look at Rosh Hashanah. The holiday was celebrated Sept. 25 to 27, but only Sept. 26 off. Even then, only students saw the benefits, as staff dealt with a teacher work day. 
Dia de los Muertos is yet another example of a day given off that was not recognized as a holiday. The celebration began Nov. 1, when teachers are expected to work, and ended Nov. 2, when the second quarter began. 
These three holidays are only a few out of many holidays that are not officially recognized or acknowledged in the county. 
Though giving days off would be easiest for those celebrating these holidays, perhaps when it's not possible, administration can become more aware of the holidays to create accommodations for celebrating students and staff. 
Holidays such as Sukkot or the Birth of Bahá'u'lláh involve work restrictions that may interfere with school. If administrators accommodate for these and other holidays, celebrators wouldn't have to worry about missing school. 
We acknowledge that adding more holidays to the school calendar may take time away from classes: COVID-19 took almost two and a half years out of students' education, and its effects are extremely apparent. However, we believe honoring the celebrations of many different cultures is extremely beneficial.
The updated calendar for the school year is a change that must continue. In addition to being more inclusive, it also challenges the belief that learning should be centered around a Christian perspective, whether that's what's being taught or is the reason why students aren't in the classroom.
We believe these holidays are a necessity. The 9.9 % of Loudouners who practice a non-Christian faith cannot be ignored.
Your donation will support the student journalists of Loudoun Valley High School. Your contribution will allow us to purchase equipment and cover our annual website hosting and publishing costs.
About the Author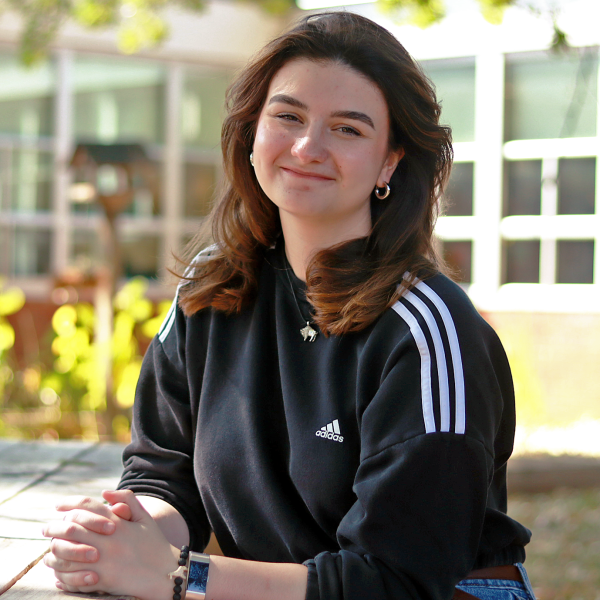 MacKenzie Bunn, News, Campus, & Media Editor
Hello, my name's MacKenzie (though I also go by Mac) and I'm a senior at Valley. This is my third year on staff, and though I primarily work as a News...