Breaking stereotypes, New Year's resolutions
Emma Vann, Media & Opinion Editor
January 11, 2023
You know that little voice inside of your head that says,"Oh, I'll just start at the beginning of the new year," or, "It's ok, I'll start on Monday," or, "New year, new me."  But when has this mindset ever really worked? 
New Year resolutions are a way to evaluate our lives and make changes to improve them.
"I think most people make resolutions because we feel that there is always something we can improve about ourselves, interests that have been ignored, new things we haven't tried, etc." Social Science and Global Studies teacher Kent Bailey said.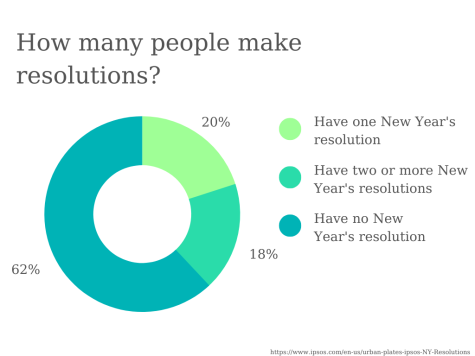 The most common New Year's resolutions are focused around benefiting one's health. For example, the top 3 resolutions Americans make are: Exercising more, eating healthier and losing weight.
Only 41% of Americans even make resolutions, and of that bunch a whopping 9% are successful in achieving them.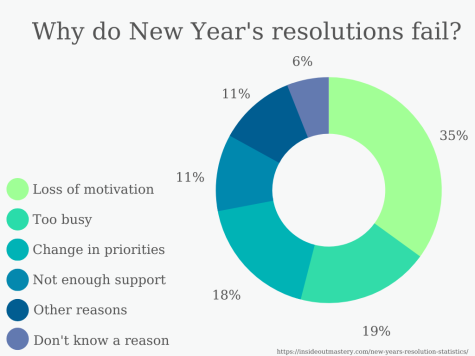 Evidently New Year's resolutions fail, but which ones seem to be the promises that people just can't keep? Around 50%-60% of Americans with the goal of losing weight fall short, almost half of people who want to save money are unable to, and 15% fail at breaking an addiction.
Mindset is what drives results, and even in the face of sobering statistics, people hold out hope for change year after year.
Junior Anna Talley has fallen short in achieving resolutions in the past, but has good intentions for the new year.
"I want to get better grades, I think I'll achieve it," Talley said.
American Sign Language Teacher Lauren Holesapple had a different approach to the new year's resolution.
"I had all of my students write on a piece of paper something they wanted to trash from 2022. So they wrote it down, crumpled it up, and we all tossed it in the trash can," Holesapple said. "So I felt like that was, instead of a resolution, a good way to walk away from 2022 and anything we needed to stop obsessing about."
Holesapple said the way resolutions are executed contribute to why they easily fail, and letting go of the stereotype surrounding goals that must be set on a certain timeline.
"We do it because of a certain day, when really, I think it's more important, and I have it on my wall, is to just try and always set an intention," Holesapple siad. "So I think any day of the year you can set an intention to do something differently or better or to make a change."