Bon Appétit Gourmet Makes: Review
Kerry Webster, Editor In Chief
March 6, 2019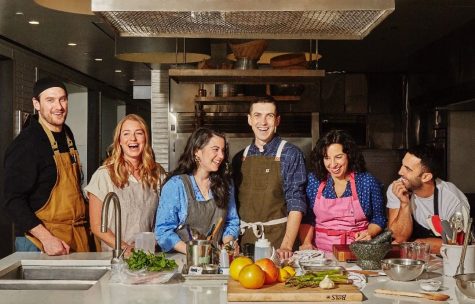 Have you ever been indulging in your favorite junk food and wondered what's gone into making it? If so, then the YouTube series Gourmet Makes on the channel Bon Appétit is right up your alley.
Pastry chef Claire Saffitz of the Bon Appétit Test Kitchen finds a new sweet or snack to deconstruct each episode of the show and figures out how she can make it herself, and maybe even improve it.
She starts each episode by analyzing the physical characteristics such as color, shape, and texture. This part is important because it's when she and the other Test Kitchen associates help Saffitz decide which aspects are most important to recreate and which parts should be changed to create a better product. These preferred aspects are often the most popular with the general public, making it more interesting for the watcher.
Saffitz then reads the ingredient list of the junk food, typically latent with preservatives and unpronounceable chemicals. This serves to highlight the discrepancy between the unhealthy ingredients in the processed food, and the organic ingredients that Saffitz will use to recreate it.
Throughout the episode, we're able to see the tribulations of trying to recreate a processed food down to the appearance and texture. Dispersed through these cooking woes are moments of camaraderie between the test kitchen staff. They drop in and out to give Saffitz bits of advice and taste her half-finished product, letting her know what she's doing well and what to improve on.
This is what adds the most entertainment value to the series because you learn to love each Test Kitchen employee. They all have their quirks and different ways of telling Saffitz that what she has so far really doesn't cut it.
At the end of the show, Saffitz celebrates her success, making everyone try her treat and validate how (rightfully) impressed she is with herself. She then compares it to the original, summarizes what steps worked in making the treat, and reveals the recipe. It's always satisfying to see how close she comes in appearance.
My favorite thing about the whole series, though, is that it combines my favorite aspects of certain cooking shows. You get to watch a professional chef use the guess-and-check method and create something great, like in The Great British Baking Show, but there are no stressful stakes or time limits, like in The Pioneer Woman or Barefoot Contessa. You're just watching the process unfold.
The only downside to the show that stands out is its sporadic release dates. You never really can count on when it's going to be uploaded, but it makes it that much more fun when it pops up in your subscription box.
The show makes for a great weekend binge, and is great for those who are actually trying to clone notorious snack food. With episodes featuring Oreos, Cheetos, and Pringles, there's bound to be one for your favorite guilty pleasure.