Thai Wars
The once small town of Purcellville has seen rapid growth. The constant growth is recognizable from building a second highschool to adding new town centers. Finn Thai opened in 2016 making it the first Thai restaurant in Purcellville. In 2019 a second Thai restaurant entered Purcellville. Patama Thai and Finn Thai both offer authentic Thai food to the residents of Purcellville. Each restaurant is unique and different. 
Finn Thai happens to be more on the formal side for dining. Although some consider the food to be slightly pricey, the quality of food is superb. The food is worth its price and has an expansive variety of meals.There are many options such as the edamame and spring rolls available to vegetarians while the more carnivorous side offers basil wings and seafood dumplings. Personally the basil wings are the more preferable appetizer. The wings have a sweet Thai sauce that compliments the crispy and juicy texture of the wing. There is plenty of meat on the bone creating the perfect ratio of sauce, chicken, and batter. 
The entrees include the typical noodles, rice, and curries. One entree, being the fried rice combo gives you a combination of grilled meats of chicken, beef, and pork. The food is clean and healthier compared to most entrees due to barely any fat or sodium. There are also unique specialties such as the crispy duck. The crispy duck is expertly cooked duck, fried to give it a crispy taste with a unique, spicy sauce. 
Patama is a newer and much different type of Thai place. The menu is simpler yet still provides a fair amount of variety. The appetizers are small so I recommend another appetizer or an entree to be included. There is a small amount of appetizers to choose from but my favorite would be the spring rolls. You can never go wrong with spring rolls and they are vegetarian. I wish there were more instead of only 3 rolls but regardless they are still tasty. The shrimp tempura is also very good too. A shrimp fan myself, I enjoyed the big shrimp coated with tempura. 
The main entrees feature traditional Thai to keep it nice and organized. The entrees are very cheap and worth its price. The portion sizes remain appropriate yet are slightly smaller than Finn Thai.  Beside the main menu is also a special menu with more unique entrees. I enjoy this contrast of menus to keep the organization between standard and special. My favorite meal is the drunken noodles because of the soft noodles blended with peppers, onions, and tomatoes with spice adding to the bold flavor. 
Overall both places are great but for different reasons. Finn Thai is more expensive and formal but has more variety. Finn Thai also has a higher quality of food and you get more out of an entree. Patama is simple and has prices you cannot beat with a decent amount of options. It is less formal and more designed for delivery. Overall, if you want to pick up quick food Patama is your choice but if you would enjoy sitting down with family to eat, Finn Thai is the better option for that.
About the Writer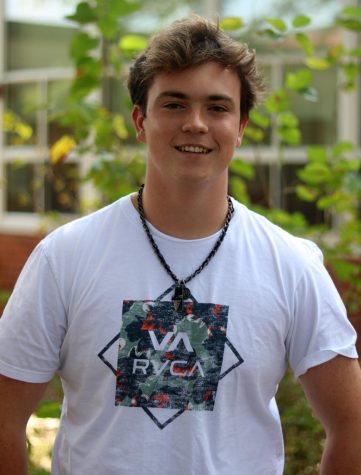 Garrett Hennessey, Staff Reporter
Hello, I am Garrett Hennessey, a staff reporter for the Viking newspaper.

I am a senior, and this is my third year on staff. I joined staff because...